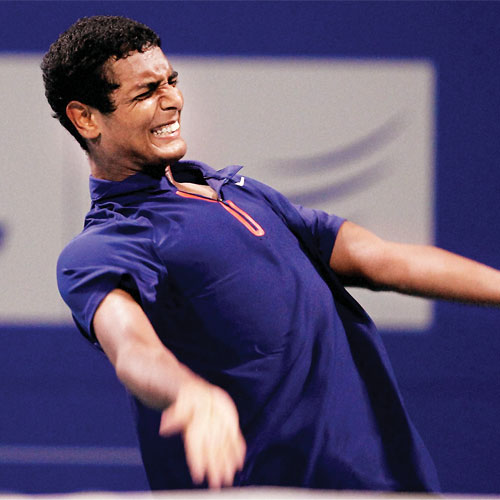 Ramkumar Ramanathan still seems hungover from what he did on New Year's eve. No, we aren't talking about any wild parties, but the 19-year-old's incredible win over Somdev Devvarman in his first ever ATP match in the first round of the ongoing Chennai Open.
The Chennai lad, ranked 526th in the world, came from a set behind to defeat India's No.1 singles player and World No. 90 4-6 6-3 6-4 on Tuesday in a match that probably is the highlight of the event so far. He went on to lose to Spain's Marcel Granollers, ranked 38th, in the second round.
But ask him about the win over Somdev, and the excitement is back.
"I really didn't expect to win," Ramanathan told dna on Friday, shortly after bowing out of the doubles quarterfinals with compatriot N Sriram Balaji. "I just believed in myself and pushed myself to the limit. I was really motivated to do well, and to win against a great player like Somdev was an amazing feeling."
The 6'2" right-handed player was relatively unknown before the start of Chennai Open, but immediately made the crowd sit up and take notice. Well, even Somdev did.
"He had good things to say about me after the match, which gave me a very positive feeling coming from India's No. 1 singles player," Ramanathan says.
Having got a chance to play his first ATP tourney, did he do anything different in terms of preparations?
"Just a lot of Futures tournaments and hard work," he says.
Hard work are two words Ramanathan stresses on. He started playing tennis at the age of five "for fun", travelled with his father to win quite a few state and national events. So when did he realise he had it in him to play at the top level?
"I don't think that way. I believe in hard work, being as professional as you can be when you play. Anyone who works hard can make it to this level, but it doesn't happen to everyone. I want to make the most of the this and give my best," he says, adding that his goal is to break into the top-200 by the end of this year.
Ramanathan gives a lot of credit to his coaches — T Chandrasekaran and Spaniard Sergio Casal, his current coach after the Tamil Nadu Tennis Association sent him to Spain for training — for working on his physical and mental aspects of the game.
Ramanathan worked tirelessly on his serves and forehands on the slow courts of Spain, turning them into his "biggest strengths". As for the mental aspect, he says he was emotional and short-tempered as a child on the court, breaking racquets at will. Has he managed to overcome that?
"Being aggressive helps me a lot. There are a few things that I need to work on, and my coaches are helping me a lot with that. Obviously, I can't go on breaking racquets at this level!" he admitted.
Ask the youngster his idol and pat comes the reply, "Roger Federer. He's a true legend, man." And though the Swiss' present form has taken a dip, Ramanathan predicts a better future for him. "He'll win at least a couple more Grand Slams," he says.
Federer's future may or may not look bright, but Ramanathan's certainly does.
Know Ramkumar
Full name: Ramkumar Ramanathan
Age: 19
Birthplace: Chennai, India
Height: 6'2" (188 cm)
Weight: 77 kg
Plays: Right-handed
Coach: Sergio Casal, Juan Balcells
Current rank: 526
Wawrinka in semis, Yuki crashes out
Top seed Stanislas Wawrinka celebrated his 300th ATP World Tour win in style by demolishing Aljaz Bedene of Slovenia 6-2 6-1 to storm into the semifinal of the Chennai Open on Friday.
Meanwhile, India's Yuki Bhambri crashed out of the quarters, going down to Canada's Vasek Pospisil 6-3 6-3.
Results: Singles QF: 5-V Pospisil (CAN) bt Y Bhambri (IND) 6-3 6-3; 1-S Wawrinka (SWI) bt A Bedene (SLO) 6-2 6-1; 7-E Roger-Vasselin (FRA) bt Dudi Sela (ISR) 7-5 6-7(6) 6-0; 6-M Granollers (ESP) bt 4-B Paire (FRA) 6-2 3-6 7-6(5); Doubles QF: M Draganja/M Pavic bt N Balaji /R Ramanathan (IND) 6-3 6-3