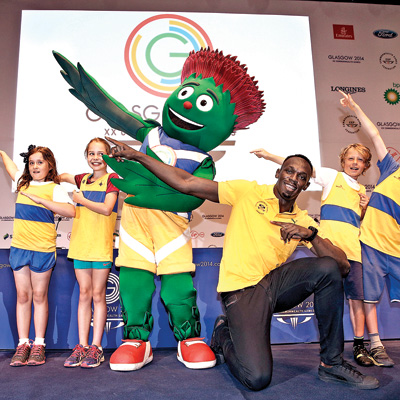 He was charming. He was full of wit and good humour and he also brought an almost audible sigh of relief through the whole of Glasgow and Commonwealth Games community as he touched down in Glasgow.
On arrival at the conference, Bolt came out with his trademark lightning bolt pose with a group of school children and the Games' official mascot Clyde. He was charming alright.
And he steered of controversy when asked about his thoughts on the Scottish independence referendum. He smiled and said, "I didn't even know that."
Yet, Usain Bolt, winner of six Olympic gold medals and eight world titles, was most unconvincing, when he said, "I don't think anyone has dropped on purpose." He was referring to the absence of so many other stars at these Games. "It happens in the Olympics, it happens in the World Championships. It's one of those things.''
Bolt also buried his head in his hands while laughing when asked if he had any plans to pull out himself. ''That's a very weird question,'' he said.
''I am here to run. Why else would I travel all this way to Glasgow? I will be running, definitely.''
Charming the media he insisted, "I live for the fans, when I go on the track I want the fans to enjoy my performance always, so for me I always try to bring the energy because I want to feed off their energy also. I'm definitely going out there for a good performance and trying to put on a show for the fans," he said at the packed the Loch Lomond Conference room. He insisted it 'very important' for him to compete in the Commonwealth Games.
Well, it is Bolt, so we listen, and even believed for a second. But only for a second, because we all also know that Commonwealth Games is really no priority for the top athletes, at least in track and field.
The last edition in Delhi in 2010, had an ever leaner field in terms of quality.
At a Games, where even home athletes like Mo Farah and Jessica Ennis-Hill will be missing, Bolt's presence was of utmost importance to the Games.
An injury earlier in the year forced him to restrict himself to the relay and he said, it was his ambition to be a Commonwealth athlete. He also said he will be running in the heats of the relay as well in order to get his fitness right.
''For me it was very important (to be here),'' he said. ''I expressed it to my coach and I am happy to be here. I have always wanted to compete in the Games. The first one in Australia (in 2006) I strained my hamstring and in 2010 in India it was in October, which is a bad time for me.
''I got injured earlier in this season and I didn't want to take anyone's spot so I decided 'why not just come in the 4x100m?'''
His wit was at his best, when asked what he was expecting to see. "A lot of rain maybe and seeing a lot of kilts around the place.
"For me, I didn't come here with any expectations, I'm just going out and trying to see the country. I guess everybody will try to show me their culture so I know I will see a lot so I am not worried - I will be here for a week and I won't be doing much so I can probably get to move around a lot."
Bolt added watching the Jamaican netball team compete was on his to-do list while in Glasgow and he also confirmed he would be staying in the athletes' village.
"It's always fun to be among the athletes and it makes you relax more just enjoying the talk and to laugh and to bond with everyone," he added.
"I try not to walk around the village too much because I tend to take a lot of pictures. I will definitely move around to see how the village is set up and stuff like that but I will stay in my room most of the time."
Bolt reiterated, ''I will be running in the heats — I think I need the runs, really, because this is my first run of the season, so I really need to get it going. The injury is completely gone. Fitness-wise I have done a lot of training over this past month - I have been really pushing myself."