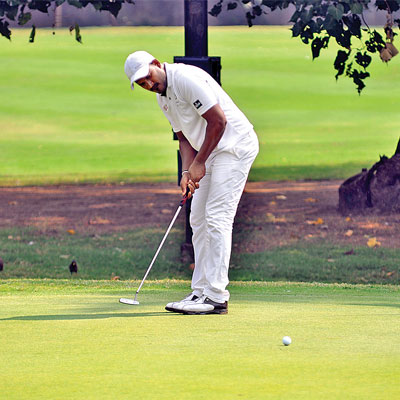 While his cricketing friends Kumar Sangakkara and Mahela Jayawardene had a bad taste of their last Pakistan tour in 2009 after which international teams stopped touring that country, this Sri Lankan golfer has been there twice since and even won the Pakistan National Amateur Golf title in 2012. N Thangaraja's career only got better since then and the Sri Lankan claimed his maiden PGTI players Championship in 2013.
Coming from an economically weak background, Thangaraja became interested in golf when he was six but could only start when he was 24 and that too, as a caddy. "Working as a caddy helped me learn the tricks of the trade and I earned some money too. Being a caddy helps a golfer in the long run as one gets access to the course and can practise," Thangaraj, who's representing Krrish Colombo in the Louis Philippe Cup at the Bombay Presidency Golf Club, said here.
Coming from Sri Lanka, the 32-year-old could not escape cricket and it still is his first love. "I still play cricket and football when I get time. I stay connected to cricket because Sanga (Kumar Sangakkara) and Mahela are friends. We have played golf together too. Even now, when we meet, they always say a hello with a smile. They are very cordial," he added.
However, the golf culture in Sri Lanka is developing. At present, there are only three golf courses there – Colombo, Kandy, Nuwara Eliya. Thangaraja believed the number will increase in the next three to four years.
"A lot of rich people play the game in Sri Lanka. Members of all high-end clubs take to the sport and then they go out of the country for work or do further studies. That is the problem the game could not develop," said Tharanga.
Apart from India, he spoke very highly of Pakistan when it came to golf courses. "Pakistan is a lot better than Sri Lanka as it provides better infrastructure. There are about 17-20 golf courses there," he said, adding: "Pakistan and Sri Lanka are good friends and that's how it should be. I was aware of the attack on the Sri Lankan cricketers but I was never scared of visiting Islamabad. People are nice there."
Amongst his favourite golfers is Anirban Lahiri from India. "He is very calm and patient. I wish to meet Tiger Woods someday," asserted Thangarajan.
Meanwhile, Thangaraj lost to fellow Sri Lankan Mithun Perrera, who is playing for Navratna Ahmedabad, in the semifinal on Friday.
Results (semifinals): Navratna Ahmedabad bt Krrish Colombo 2-1 (Vinod Kumar 72 lost to Himmat Rai 68, Mithun Perera 71 bt N Thangaraja 72, Vikrant Chopra 71 bt K Prabagaran 72; Puravankara Bangalore bt AVT Kolkata 3-0 (M Dharma 71 bt Rahil Gangjee 72, Anirban Lahiri 67 bt Chiragh Kumar 71, S Chikkarangappa 67 bt Shankar Das 68
KNOW THANGARAJA
Date of birth:
Born:
PGTI Rank: 12
Top 10s: 3
Winner of PGTI Players Championship 2013
Winner of NCR Cup Amateur Golf Championship 2012
Winner of Pakistan National Amateur Golf Title 2012