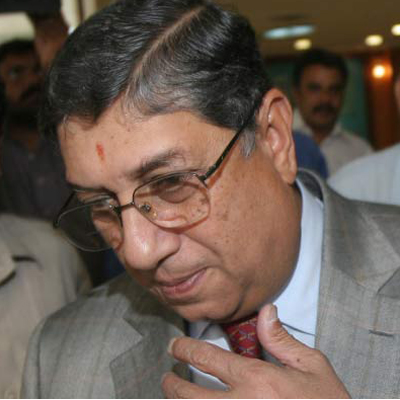 Complying with the Supreme Court's order, the BCCI has given marching orders to all the employees of India Cements or its associate companies who were also part of the Board.
Confirming the development, a BCCI source on Monday said, "All India Cements employees connected with the BCCI have been taken out of the Board as per the Supreme Court's order."
The notable faces among them are Tamil Nadu Cricket Association secretary and a close aide of Srinivasan, Kashi Viswana, who was a member of the National Cricket Academy (NCA) and New Area Development sub-committees. He headed the costs department of India Cements for a long time and retired only a couple of years ago.
Apart from Vishwanathan, others India Cements employees who have been removed from the BCCI till the Supreme Court's final orders are Indian team's logistics manager MA Satheesh, chief financial officer of Indian Premier League Prasanna Kannan, the joint secretary of TNCA RI Palani who is one of the senior managers of the company and is a member of the BCCI zonal academies committee and PS Raman, vice-president of TNCA who is also Srinivasan's lawyer and a legal consultant for both TNCA and BCCI.
Satheesh, who was in Bangladesh with the Indian team for the ICC Twenty20 World Cup, was called back on Saturday after the Supreme Court's order.
The Supreme Court, during a hearing into the IPL spot-fixing and related issues on Friday, ordered that employees of India Cements or its associate companies should not be part of the Board. It, however, said players and commentators who are on India Cements' payroll can be part of the BCCI.