Striker has scored just three goals this season.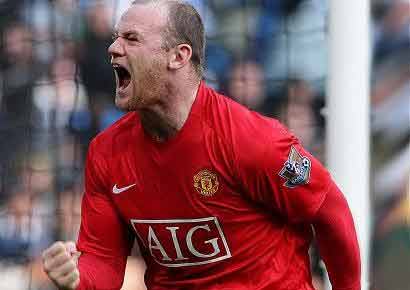 Sir Alex Ferguson has challenged Wayne Rooney to rediscover his goalscoring form after admitting that the Manchester United forward is suffering the consequences of his disrupted start to the campaign.
Rooney goes into this evening's fixture against Reading having made his second slowest scoring start to a season since arriving at United from Everton in 2004.
The 27 year-old has scored in just one Premier League game this term, when he hit two goals in the 4-2 Old Trafford victory against Stoke City in October, and has only one Champions League strike - a penalty against Braga - to his name this campaign.
A month-long absence with a gashed thigh and a recent bout of tonsillitis have restricted Rooney to 14 appearances in all competitions and Ferguson believes that the stop-start nature of his season has contributed to the England forward's diminishing returns in front of goal.
"That is what we're seeing," Ferguson said. "He is missing bits of games, he was off with tonsillitis again and I think Wayne is the type of player who can't miss games. With the frame he's got and the type of person he is, he needs to play all the time."
Despite Rooney's uncharacteristic lack of goals this season, he is credited with providing six assists in the Premier League, mainly for 12-goal top scorer Robin van Persie, but Ferguson admits that he expects Rooney to score more than he provides.
"I'm happy with that part of his game [assists]," Ferguson said. "He can contribute to the team's success, fine, but we would rather he scored more, obviously."
Ferguson's attacking options have been reduced with the manager confirming that Portuguese winger Nani faces a further "4-5 weeks" on the sidelines with a hamstring injury.
Captain Nemanja Vidic has returned to training following a September knee operation, however, and Ferguson is planning for the defender to face CFR Cluj in Wednesday's Champions League tie - four days before United face Manchester City at the Etihad Stadium.