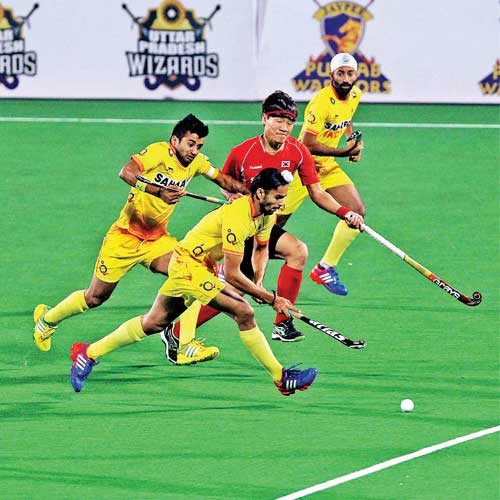 It is the same old story.
As India conceded a second goal to Korea in the 58th minute of the game on Tuesday, a Hockey India official held his head and yelled at them... "Not again man". "This is where we have lacked all these years. We were comfortably 3-1 ahead and now we are struggling. Instead of slowing down the game to frustrate Koreans, we're playing their game of speed. Can't our coaches and players understand this simple thing?" The senior official expressed his agony in one breath.
What India couldn't do after taking lead, Koreans did better after levelling the score. They slowed down the game, frustrated an experienced Indian forward line with ball possession that ultimately resulted in hosts' failing to qualify for the quarterfinal stage.
This has happened when India had undoubtedly the most experienced side in all the 16 teams participating here.
By Wednesday morning, HI secretary general Narinder Batra owned full responsibility for the team's exit. "Kindly do not put any blame on the team, the coaching team and the high performance, and I as head of all operations in Hockey India take full responsibility and apologise to the nation, all hockey lovers for letting them down," Batra said.
But the big question is that when eight of the players are playing in the senior team and some of them are dubbed as future stars, will just owning up responsibility help Indian hockey? The answer is a simple and straight "no".
Despite being trained by foreign coaches for over last four years, Indian hockey has not shown any improvement. From José Brasa to Michael Nobbs to now Dutch legend Roelant Oltmans, Indian hockey is still struggling to match the class of Europeans. It is time Hockey India reviews its big future plans and revives this National Game.
Playing Today: Live on Ten Sports
Netherlands vs New Zealand, 11am; Egypt vs England, 11.30am; Belgium vs France, 1.15pm; Spain vs Canada, 2pm; Malaysia vs Korea 3.30pm; Pakistan vs South Africa 4.30pm; Australia vs Germany, 5.45pm; Argentina vs India, 8pm