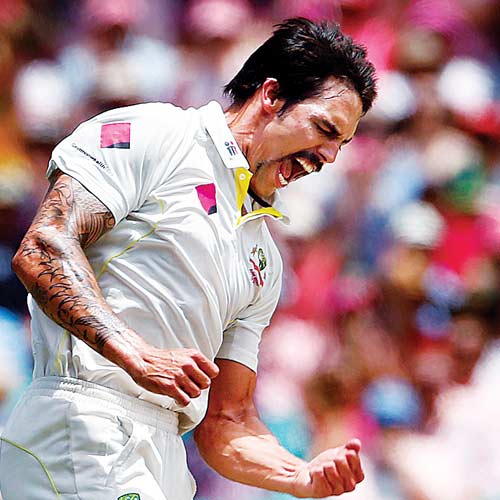 Minutes before Australia achieved a historic 5-0 whitewash over England at the Sydney Cricket Ground, Mitchell Johnson displayed his five fingers to the Barmy Army.
That signal spoke a lot about Johnson's state of mind, who was Man of the Series and was the key factor in the Aussies regaining the urn. He was now a confident man — of his performance, of his body, of himself — and not only did he shut up his old rivals (the Barmy Army), but all the critics that doubted his spectacular return. There are usually two distinct Johnsons — one who is erratic, ill-disciplined and the other who is fast and accurate. The latter turned up for the Ashes.
Figure this: Johnson picked up 37 wickets in the five Tests at 13.97, which is the most in an Ashes series Down Under since Rodney Hogg's 41 in 1978/79. More than just the sheer number of wickets he took, it was the fear and intimidation that he created in the English batsmen with those 150kmph thunderbolts that created more impact.
He had a nervous start in the first Test. But after the iffy beginning, all the planning and execution fell in place perfectly. Jonathan Trott was peppered with the short stuff that led to his downfall and eventual exit from the tour. Soon after, he went around the wicket to a set Michael Carberry and got him jumping and caught at slips.
Those two wickets set the tone, and he seldom stopped since. That it was a conscious strategy to bully the English tail with chin music throughout the tour was perfect for Johnson — he could be at his furious best.
Indeed, it was a remarkable transformation. He'd just played two Tests in 2013 prior to the Ashes, picking up only three wickets. He was too haywire and was understandably down in the list of players likely to be picked for the return Ashes.
But a good show in the ODIs against England in September, in which he picked up nine wickets in five games, brought him back in contention. And then a fiery performance in the five one-dayers against India in October on unresponsive pitches probably sealed it for him, getting seven scalps.
Why, even his Mumbai Indians' teammate, Sachin Tendulkar, had predicted Johnson making an impact in the Ashes.
So what led to his change from being consistently out of the side to being the integral part of an Ashes winning team, from erratic to disciplined?
"It's simple. It's all due to Dennis Lillee," said TA Sekar, former India pacer who has worked with Lillee at the MRF Pace Foundation. "Johnson worked with Lillee in the last six months after his surgery, right from his action to everything else. Unlike many other coaches, Lillee can not only identify problems, but also find solutions to them and fine-tune bowlers. And the results are for all to see."
Australia skipper Michael Clarke probably reserved the best comments.
"He deserves all the credit he receives, he's copped a lot of criticism throughout his career, he's been dropped from the team – that shows his character. No one in the world can doubt Mitchell Johnson's character ever again," he said.
The Barmy Army would agree, even if grudgingly so.