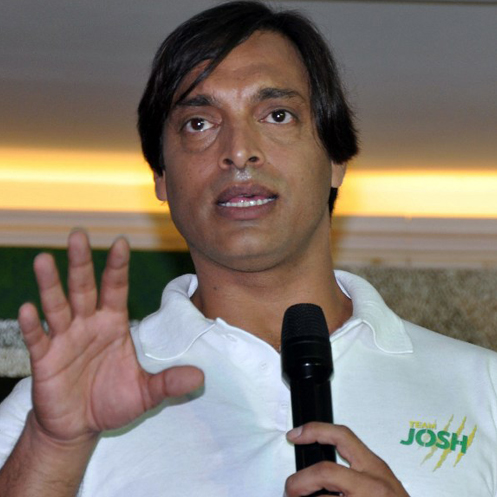 Former Pakistan fast bowler Shoaib Akhtar is set to tie the knot with a 17-year-old girl from Haripur District in Pakistan.
The Express Tribune newspaper quoted members of his family, as saying that Akhtar is due to visit his hometown of Rawalpindi on June 12, and added that wedding dates have been finalised for the third week of June. According to the paper, the 'Mehndi' function is scheduled for June 19, the 'Rukhsati' for June 20 at Haripur's Bilawal Hall and the 'Valima' for June 22 in Rawalpindi.
The paper further quoted sources, as saying that Akhtar's family met Mushtaq Khan, a businessman from Haripur while on Hajj last year. They asked Khan's wife for help in finding a suitable match for the 39-year-old retired cricketer. Both families reportedly met several times upon their return to Pakistan before finalising a match between Akhtar and Rubab, aged 17. Rubab has little interest in cricket and has three older brothers and a younger sister.
Shoaib Akhtar, who has made headlines for several cricketing and non-cricketing reasons, including bowling the fastest ball ever, breaking down in nearly every series, making colourful statements off the field and so on, is once again sure to raise eyebrows with the latest decision to marry a minor girl.
However, an unverified Twitter account of 'Shoaib Akhtar' denied the rumours vehemently:
Wishes are always welcome BUT NOT for some crap rumour...My journalist friends,I expect sensible reporting and not rumour spreading.Thanks!

— Shoaib Akhtar (@DaFastestBowler) June 7, 2014
Have got many messages from my friends in the media across the world.Following is my statement on reports of my marriage:

— Shoaib Akhtar (@DaFastestBowler) June 7, 2014
"I would like to confirm that I'm not getting married to 17 year old girl,there is absolutely no truth in the story being reported..(Contd.)

— Shoaib Akhtar (@DaFastestBowler) June 7, 2014
...If not me,atleast respect the girl! Totally False"

— Shoaib Akhtar (@DaFastestBowler) June 7, 2014
If this is indeed the real Shoaib Akhtar's account, the controversy should be laid to rest. However, cricket fans around the world are already discussing the news and as with earlier controversies of Shoaib Akhtar, this one is unlikely to die down very soon.