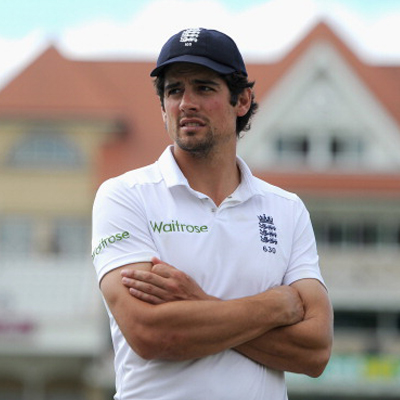 England win the third test match. Go up 2-1 to take lead in five match test series. India bowled in just 43 overs as the visitors bundled for 161.
22:50 IST Saturday, 9 August 2014
India still trail by 73 runs with 142/8 in 41.1 overs
22:42 IST Saturday, 9 August 2014
WICKET No.8: Bhuvaneshwar Kumar is run out in an attempt to snatch a quick single with Aswin at the non-striker's end. India have lost eight wickets for 133 runs in 40 overs.
22:17 IST Saturday, 9 August 2014
WICKET No.7: India still trail by 108 runs and an hour more left for end of play on Day 3. Indian side seem disoriented and lacky the firepower to face the onslaught of a fiery and strong English bowling attack. IDhoni was dismissed for 27 runs as he was caught by Ballance to a Moeen Ali delivery.
21:43 IST Saturday, 9 August 2014
WICKET No.6: Ravindra Jadeja too like the others disappoints with the willow, scores 4 runs of 5balls. India 70/6 in 27.3 overs as batsmen struggle to face a ruthless English attack.
WICKET No.5: I fail to understand what is going on as India lose yet another wicket. England bowlers humiliate Indian batsmen, a total mockery. Virat Kohil departs for 7.
21:27 IST Saturday, 9 August 2014
WICKET No.4: Ajinkya Rahane scores 1 run as Indian batting line-up seems to have come down crumbling like a pack of cards. Moeen Ali removes two batsmen in quick succession. Score 61/4.
21:22 IST Saturday, 9 August 2014
India reeling 61-3
WICKET No.3: Batting problems worsen for the Indian batting side as Cheteshshwar Pujara is given LBW to a Moeen Ali delivery. He scored 17 runs of 38 balls.
WICKET No.2: India lose their second wicket as Gautam Gambhir tries to save himself from a Anderson delivery edged to keeper Joe Root.
21:07 IST Saturday, 9 August 2014
WICKET: Murali Vijay gets out cheaply scoring merely 18 runs. He was adjudjed LBW to a Chris Woakes delivery. India are on 52 runs for the loss of one wicket in 20.4 overs
19:30 IST Saturday, 9 August 2014
India open second innings with Murali Vijay and Gautam Gambhir. India 2-0, trailing by 213
19:10 IST Saturday, 9 August 2014
INNINGS BREAK
WICKET: The rivalry continued as Ravindra Jadeja scalped James Anderson's wicket. Jadeja bowled a fine delivery as Anderson was given out for a leg before. score: 367/9.
18:54 IST Saturday, 9 August 2014
England continue to mount pressure on India as they pile up 352 runs for the loss of 8 wickets in 102.1 overs, increasing lead to 200.
18:31 IST Saturday, 9 August 2014
Stuart Broad slams two consecutive sixes off Varun Aaron's over and then is hit in the nose as he tried to hook a third 6. England 338-6. James Anderson comes in for a retired hurt Broad.
17:47 IST Saturday, 9 August 2014
LUNCH: England are 325/8 in 97 overs, leading by 173 runs.
WICKET: Pacer Pankaj Singh on target again for India as he claims his second victim, Jos Buttler for 70 runs (130 balls). Singh bowled a slower delivery when Buttlet tried to smash it hard through mid-off to send it landing straight into Cheteshwar Pujara's hands who was at that position.
17:23 IST Saturday, 9 August 2014
WICKET: Pacer Pankaj Singh claims a dangerous looking Joe Root for 73 runs. He was caught behind by Mahendra Dhoni to award Singh his first wicket of the match. India now have a reason to rejoice as the pair (Buttler-Root) had begun to cement their place which could have harmed the visitors.
16:51 IST Saturday, 9 August 2014
England batsmen Buttler and Root now move on to 43 and 65 runs. Indian bowlers bowl hard without much success. England are now 279-6 in 87 overs taking a lead of 127 runs.
16:07 IST Saturday, 9 August 2014
England are now 246-6 from 78 overs.
15:56 IST Saturday, 9 August 2014
Pankaj Singh bowling really well but has been unlucky so far. Singh bowling a consistent line and length at the Old Trafford.
15:51 IST Saturday, 9 August 2014
Half-century for Joe Root: Scores 52 runs off 103 deliveries including two boundaries.
15:42 IST Saturday, 9 August 2014
England are 85 runs ahead and batsmen Joe Root and Buttler have walked on to the field standing at 48 and 22 runs respectively.
Weather Update: It is a bright day and there are no threatening clouds
22:42 IST Friday, 8 August 2014
STUMPS: After a last inspection of the pitch, the umpires have declared that play is abandoned for the day. England are strongly placed at 237/6, with a lead of 85. There is plenty of time - three days - in this match to force a result and England are strong favourites now.
21:23 IST Friday, 8 August 2014
No update from the middle on when, or if, the play will restart. The rain has subsided but the outfield is extremely heavy and Super Sopper is doing a difficult job.
19:15 IST Friday, 8 August 2014
England had taken their score to 237/6 after 71 overs when the rain became too heavy for the players to continue. After a long discussion the umpires decided it was best to leave the field. Jos Buttler (22) and Joe Root (48) have added 67 runs to pull England out from a slightly tricky position. England are now well and truly on top, with a lead of 85 and 4 wickets standing. On this wicket, that is a huge advantage.
17:49 IST Friday, 8 August 2014
It's lunch on Day 2 at Old Trafford and England are still in firm control despite losing three wickets in the morning session. They finish the session at 201/6, with Joe Root on 23 and keeper Jos Buttler on 13. Varun Aaron took the wicket of Mooen Ali, but not before Bhuvaneshwar Kumar had removed the overnight pair of Ian Bell and Chris Jordan. India will look to bowl out England as soon as possible in the second session to retain a chance of winning this game.
OUT! Mooen Ali is gone, and Varun Aaron has picked up his third wicket. That was full and fast and it swung sharply into Moeen Ali and split the gap between bat and pad to crash into the stumps. Mooen made 13. For some reason he gets a standing ovation from the crowd. England 170/6, lead by 18
17:04 IST Friday, 8 August 2014
Day 2: England have progressed to 167/5 after resuming at 113/3 this morning. Bhuvaneshwar Kumar has taken the wickets of Ian Bell (58) and Chris Jordan (13).
0:17 IST Friday, 8 August 2014
It's Stumps on Day 1 at Old Trafford as England finish on 113/3. England, despite losing three wickets, are in the driver's seat because they bowled India out for 152. India have found some help from the pitch but not as much as England. Six of India's batsmen failed to open their account, which is a joint record. More on that on Day 2.
23:58 IST Friday, 7 August 2014
OUT! Gary Ballance is out, it was angled in and struck the front pad full. LBW given. Varun Aaron gets his second wicket, England 113/3
22:50 IST Thursday, 7 August 2014
England have reached 79/2 with Ian Bell and Gary Ballance playing fluently after those two early strikes. Twenty overs remain in the day. Bell has been quite aggressive scoring 29 off 31 balls.
22:08 IST Thursday, 7 August 2014
OUT! Another wicket falls, and this time it's the captain Alastair Cook. It was a short ball from Varun Aaron, and Cook was beaten for pace. He pulled it straight to deep backward square. Cook falls for 17 and England are 36/2
21:41 IST Thursday, 7 August 2014
OUT! After some staunch resistance from the England batsman, Bhuvaneshwar Kumar has bowled Sam Robson. Robson left the delivery alone but it was too close to leave and crashed into his off stump. Robson 6, England 21/1.
20:49 IST Thursday, 7 August 2014
OUT! India's last wicket falls as Pankaj Singh is cleaned up by Broad for 0. Broad finishes on figures of 6/25. It also means that six of India's batsman were dismissed without scoring. The final total is 152. Imagine what could have been if not for Dhoni's 71.
20:40 IST Thursday, 7 August 2014
OUT! MS Dhoni is out for 71 and India lose their ninth. The ball was full, outside off, and he looked to slog over midwicket, but got it much squarer. It ended up in the hands of Jordan at backward square leg. Stuart Broad has five wickets now.
OUT! Bhuvaneshwar Kumar, the unlikely hero of India's batting order, has been bowled for 0 by Stuart Broad. He had no idea where his off stump was. Meanwhile, MS Dhoni has reached a gritty half century.
20:13 IST Thursday, 7 August 2014
OUT! R Ashwin has fallen after that quickfire innings. He tried to pull and his timing was very wrong. He was caught by Robson coming in from midwicket. Broad gets his third wicket. India 129/7, Ashwin 40.
19:58 IST Thursday, 7 August 2014
At drinks on Day 1, India have reached 121/6. MS Dhoni is one run away from scoring another half-century in England. The seventh wicket stand is now 58. R Ashwin continues to score as he has reaced 32 off 31 balls. 52 overs remain in the day.
19:38 IST Thursday, 7 August 2014
Ravichandran Ashwin is now taking tha aggressive route to stamp his authority on the English bowling. Dhoni and Ashwin have scored 38 runs in the last five overs, but not all of it has come without edges and miscues. James Anderson is still finding some bounce and swing. Ashwin is on 25 off 22 balls and Dhoni on 38 off 95. India are 101/6.
19:14 IST Thursday, 7 August 2014
James Anderson dismissed his adversary Ravindra Jadeja for 0, LBW, in just the second over after lunch. That will make Anderson feel good. India are 80/6 now with Dhoni batting on 33.
18:23 IST Thursday, 7 August 2014
It's Lunch on Day 1 with England in the driver's seat with India at 63/5. They reduced India to 8/4 in less than seven overs in the morning, with Stuart Broad and James Anderson picking up two wickets each. There was swing and bounce in the pitch, but all Indian batsmen were out knicking to slip. MS Dhoni is still at the crease, but India will do really well to reach any score over 150 now.
Read: 4th Test: James Anderson and Stuart Broad scythe through India; 63/5 at lunch
18:19 IST Thursday, 7 August 2014
Jordan dismissed Rahane in the penultimate over before lunch to leave India in tatters at 62/5. Rahane made 24 off 52 balls. He was out in much the same fashion as his teammates, edging to slip.
17:16 IST Thursday, 7 August 2014
Another massive appeal for LBW from Anderson, there have been quite a few of these today. Rod Tucker though thinks Dhoni's been saved by an inside edge, and he's right. India 23/4.
17:09 IST Thursday, 7 August 2014
Anderson and Broad have bowled exceedingly well in favourable conditions. India will rue choosing to bat first. Ajinkya Rahane is showing character once again, but India are in a massive hole at 23/4. 11 overs have been bowled.
16:35 IST Thursday, 7 August 2014
GONE! Another falls at slip! India lose 4th wicket as Stuart Broad dismisses Cheteshwar Pujara. India 8/4, Pujara made 0.
India are really down in the dumps here, 8/4 was totally unexpected. The core of the Indian batting is gone.
OUT! Virat Kohli is gone too, he knicked behind the wicket just like the rest of them. India 8/3 as Kohli's horrid run continues.
OUT! Now it is Murali Vijay's turn to go, caught at slip off Anderson. India 8/2. Vijay made no runs.
OUT! Gambhir is out caught at gully and India are 8/1 in the 4th over. He made 4 runs off 7 balls
11 am: After a spell of rain, play is set to begin. India have won the toss and will bat first. Three changes for the Indian team: Gautam Gambhir, R Ashwin and Varun Aaron coming in for Shikhar Dhawan, Rohit Sharma and Mohammed Shami.
India lost the third test by 266 runs at Southampton after winning the second at Lords. Thus the series is tied at 1-1. Paceman Ishant Sharma is still out with an injury.