It's hard to believe a time when Twitter was not in our lives. As with other forms of social media like Facebook and Instagram, checking your Twitter feed has become a daily ritual.
Today, March 21, Twitter celebrates its eight birthday, and in doing so decided to give their ever growing followers a little treat. One of the disadvantages of Twitter is that the more you tweet, the harder it is to look back at the tweets you made years ago. Twitter has decided to give you a way to see your first tweet, and the first tweets of others including celebrities. By using the hashtag #FirstTweet and Using a Tweet Tool, you can look back to find your very first Tweet — or for that matter, anyone else's. All you have to do is just type in your @username, or that of anyone — your best friends, favorite comedian, a celebrity or even presidents.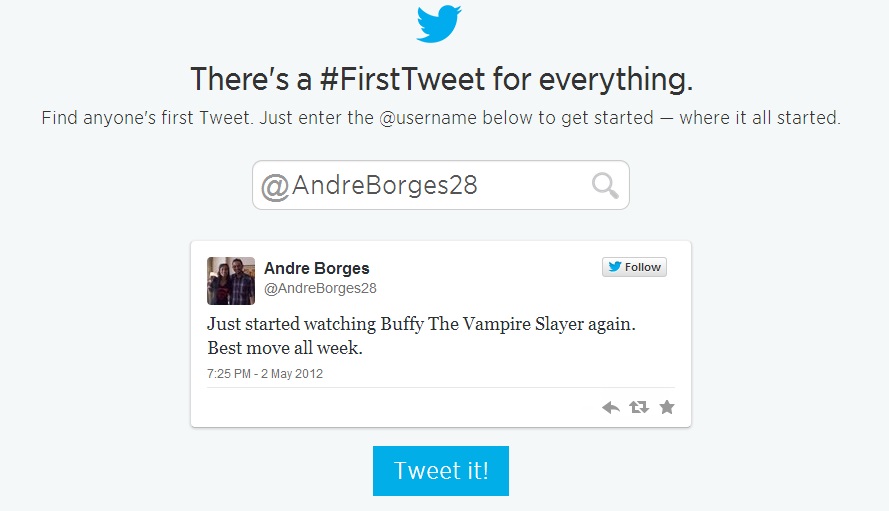 Twitter had this to say about their anniversary, "In 2006, people began to say a little something on Twitter through 140-character bursts of plain text. Eight years later, all of you have transformed Twitter into a place to discover new ideas, make real human connections and express yourself freely. So as we mark our 8th birthday, we'd like to say thank you — to you.
Millions of prolific tweeters have made the Twitter platform an exciting, fun and powerful place to connect with others. But each of you had to start somewhere: Today we're taking a look at some interesting first Tweets — first Tweets that sparked a conversation, used imagery to tell a story, or revealed unfiltered self expression.
Here is Jack Dorsey, Co-Founder & Executive Chairman, Twitter's first Tweet and 8 other memorable first Tweets — and here's to you, for making Twitter all that it is. Thank you."
just setting up my twttr

— Jack Dorsey (@jack) March 21, 2006
Here are some other memorable tweets that Twitter wanted you to see.
@juniorbachchan hey baby !! I made it on twitter !!! Yeeaaaaaahhhh !! ... sorry.. just got carried away .. safe onward flight and love

— Amitabh Bachchan (@SrBachchan) May 18, 2010
hi everyone. being extremely shy i never thought i would be here. but my friend @kjohar25 insisted that i should learn to share my life.

— SHAH RUKH KHAN (@iamsrk) January 2, 2010
Finally the original SRT is on twitter n the first thing I'd like to do is wish my colleagues the best in the windies,

— sachin tendulkar (@sachin_rt) May 4, 2010
Thinking we're only one signature away from ending the war in Iraq. Learn more at http://www.barackobama.com

— Barack Obama (@BarackObama) April 29, 2007
2nd Feb, I will be in Dahod for Gujarat Swarnim Jayanti Yatra

— Narendra Modi (@narendramodi) February 1, 2009
And here are some people who were using #FirstTweet and seem to be loving it.
My #FirstTweet was so predictably nerdy: https://t.co/VIKgiH0L47 And William Boyd on journal-keeping: http://t.co/HLhZGt5AMb

— Nilanjana Roy (@nilanjanaroy) March 21, 2014
I was so profound back then.... #FirstTweet: https://t.co/2Mcsw8n0PN. What was yours? http://t.co/I9QyZbdPH5

— Ben Kepes (@benkepes) March 21, 2014
Find your first tweet: Twitter opens archive for its birthday < what does your first tweet say?? #firsttweet http://t.co/thGIrGRH3f

— The Renaissance Girl (@Bebejax) March 21, 2014
I found my #FirstTweet: https://t.co/yoOWunExSl. What was yours? http://t.co/wzj9YRnX6S

— Shraddha (@DamselAndDogs) March 21, 2014
My second #FirstTweet ! awesomesauce https://t.co/hsMWp40gDJ. What was yours? http://t.co/FfOTmRsyqs

— A Panigrahi (@abhinavpani) March 21, 2014
My #FirstTweet is me being a smartarse, blended with shameless self-promotion. Standard. https://t.co/6aJ4zt9OZk pic.twitter.com/b1appw6Joy

— Ketan Joshi (@KetanJ0) March 21, 2014
My #FirstTweet, when I was on the screening committee for the SF Asian American Film Festival: https://t.co/FL57FHgppv.

— Evelyn Gee (@evygee) March 21, 2014
Twitter India also tweeted this,
Thanks to all of you who have come along in our first 8 years. Take a look at where we—and you—started. https://t.co/NQqTe9UK1k #FirstTweet

— Twitter India (@TwitterIndia) March 21, 2014
So click here, and find out what your first tweet was.
Also Read - Turkey bans Twitter before elections: A look at Twitter's controversial journey so far