Libraries need to evolve and keep up with the digital times to attract new-age readers and to meet their growing demands, finds Anam Rizvi.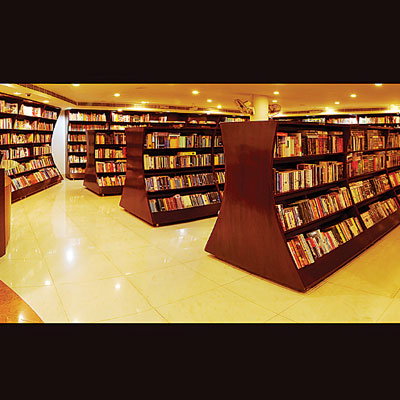 Remember Matilda, the precocious super-bright child from the eponymous Roald Dahl novel who spent hours in the public library poring over tomes by the likes of Charles Dickens? The library was her haven, as it was for millions of others, not just in England where the book is set but also in India.
But that's a way of life fast disappearing. With the onset of digitisation, e-books and the increasingly tech smart phones and tablets, libraries need to revamp to remain relevant and meet the needs of the many hungry readers who are unable to afford new books or just don't have the time to go get one.
In the West, particularly in the US and Britain, libraries have begun to lend out e-books. Though it is yet to take off in India, where Internet penetration is not so high, efforts are being made to keep up with the digital times.
The National Mission on Libraries has tuned into the trend and is working to set up a national virtual library with a Rs400-crore project, which aims to curate and digitise social, cultural content in libraries over India.
"The shift is needed. Content in libraries in the cities and the districts will be digitised," explained Prof K Banerjee, director of the Kolkata-based Raja Rammohun Roy Library Foundation, which is the nodal agency for the implementation of the programme. The first phase of the plan should be implemented within a year, he added.
Of course, this does not mean the end of the 'brick and mortar' library, just a step towards modernising them.
"Conventional libraries are not going anywhere. According to our records, there are between 54,000-55,000 public libraries in India. Only a fraction of these are moving towards digitisation," Banerjee says, identifying "training, upgrading infrastructure, increasing footfall and providing community development services" as the major challenges public libraries face.
Of course, public libraries are only part of the reading picture. Private libraries — particularly the small, neighbourhood ones that were the staple for children and adults alike — have all but disappeared. So, where does that leave the middle-class Indian who values her book, cannot always afford to buy new ones and is unwilling to access musty public libraries?
Websites that offer to drop books at your doorstep for a nominal fee are the choice of many. Several entrepreneurs are stepping in to meet the demand.
"When I started Easylib in 2001, Internet penetration in India was insignificant and most of our customers were IT professionals. In the last one to one-and-a-half years, I have started getting customers as young as seven and as old ad 70," said Vani Mahesh, a software engineer turned entrepreneur, who started Easylib, India's first online book rental website, in 2001.
"I was hooked to buying things from Amazon. Being a reader all my life, I thought maybe this trend will pick up in India," said Mahesh.
Then there is doorstepsbooks.com, a Kolkata based website that functions pan-India to provide books to readers. "Getting customers was not an easy task when we started in 2007," said Paromita Banik, manager at doorstepbooks.com. "People have to pay a subscription amount and they would not trust us as there was no physical proof that they would get the books."
Though the interface may be digital, the trend of websites offering services of lending books does not herald the demise of the conventional library, believe people associated with the word of books."We shut down our branch in Delhi because of low footfalls but we plan to remodel the library and possibly try a combination of home delivery, subscription model and allowing customers longer periods of time to keep the books," said Gautam Luiz, the managing director at Eloor Libraries, which has a presence in Kolkata, Delhi, Chennai, Bangalore and Cochin. There are challenges, pirated books being one. "People who don't care about the quality of books buy them," Luiz added.
The medium might change but all book readers will still want the experince of going to an actual library. "But for that, libraries need to be made appealing to children. As people grow older, they identify the niche subjects that interest them and buy books accordingly. However, children need the experience of walking through rows of books, reading different kinds of literature and knowing which ones they prefer," she adds.
Bright airy spaces where children and parents can spend leisurely hours are ideal spots for libraries. "Parents have to become aware and expose their children to such places," she says.
As the new-age library finds a home in the digital space and on terra firma, enthusiasts of literature will find their stock through either interface. Libraries, as Matilda knew them, may change their look but book lovers will find their fix, one way or another.