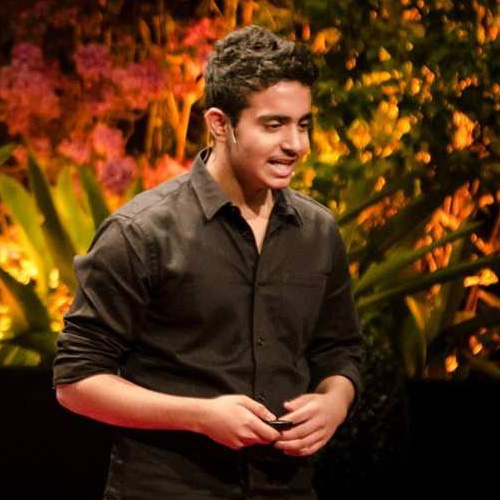 At fifteen, Angad Daryani is a proud Speaker at TEDxGateway. The Mumbai-based student has developed several interesting mechatronics projects based on open-source hardware including a virtual e-reader for the blind, a solar-powered boat and an automated gardening system called Garduino. Angad does research on robotics and automation at the Innovators Club of India. He is also the co-founder of Makers Asylum in Mumbai, all at the young age of fifteen. If that is not impressive enough, he built a Rep Rap 3D printer at the age of 13.
Having always wanted to encourage the maker movement in India, Angad formed a kit company. Due to his admiration for sharks, he named his Kit company Shark Kits. His aim is to give quality kits at a cheap rate because every child in India cannot afford expensive equipment. Angad who is in the process of building India's cheapest 3D printer (Sharkbot) shares his ideas about it
Krishna: Tell us about Sharkbot?
Angad: SharkBot is India's cheapest 3D printer which uses almost no open source components/things designed by others. We have designed almost every part ourselves. We will have different models of SharkBot at different prices- but the goal is to sell 3D printers and expose everyone to 3D printing at a very low cost. The logistics and business of Sharkbot will be handled by my dad's nationwide computer peripherals company – Kunhar Peripherals. We have offices all over the country and thus we are looking at creating a nationwide revolution
Krishna: Why use the Arduino mega in the design of the 3D printer?
One needs a lot of I/O pins for a 3D printer. Need pins to drive 4-5 stepper motors, 2 mosphets, a graphic lcd, a digital encoder and several other sensors and switches.
Krishna: How much did it cost you to build a RepRap 3D Printer?
Angad: About 40,000 INR
Krishna: How many of the things needed for the 3D printer design are not available in India?
Angad: Everything is available here. Just needs a lot of searching :)
Krishna: Do you see yourself making an open source giant like Arduino in India?
Angad: I am not looking at one single product. I'm looking at creating a revolution - Maker Movement in India. Where - Everything that I make, is open sourced so that everyone else can learn how it works or re-make it.
Krishna: You are going to make Arduino-like boards at 1/3rd the cost. Will there be any reduction in quality?
Angad: No. The 3D Printer controller board which currently uses an Arduino Mega with a RAMPS shield and pololu stepper motor drivers cost about 9000-10000 INR. The board we have developed is an all in one, single sided PCB board for 2,000 INR. It's for controlling 3D Printers.
Krishna: What is your marketing strategy ?
Angad: I am not looking at earning money after starting the maker movement.
Shark Kits doesn't really earn a lot of profits per kit. We just manage to recover our expenditure on staff, office, etc.
Krishna: Are you also a programmer?
Angad: More of a maker. I do program, but not softwares or complex machine learning algorithms.
I program in Java, C/C++, Processing, Arduino and Labview.
I write programs for robots, automation machines using arduino, etc.
Krishna: Tell me about your virtual Brailler?
Angad: The virtual brailler is a device which converts PDFs and Text Files which we read, from Roman (English) to braille in real time and projects it out of the surface. It is a device that converts digital text from Roman to braille in real time to give tactile braille feedback to the tracked finger of a visually-challenged person. I built it along with Vijay Varada, Raghavendra Sh and Ankit Prajapati.
Krishna: Have you had any experiences with the visually impaired?
Angad: Yes! The device was developed at a development workshop by the MIT Media Labs in Hyderabad in collaboration with the LV Prasad Eye Institute. The workshop was aimed at developing low cost eye diagnostic tools and assistive technology for the blind. We had visually impaired people try out the device. They could read, but it wasn't comfortable - That's something we have to work on.