Designated officers to be held responsible if city roads are found unclean, says municipal chief.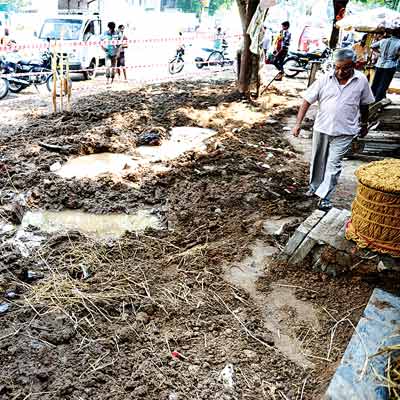 Pune Municipal Corporation (PMC) commissioner Mahesh Pathak on Friday saidthat the concerned civic official will be held responsible if waterlogging is witnessed in any area of the city. Besides, the person-in-charge will also face action if the area designated to himis not found clean.
Thecivic chief has taken cognizance of the issue after the citywitnessed heavy spells of pre-monsoon showers on Thursday. Mud andfallen branches of trees were found on many city roads on thefollowing morning. These streets include Karve Road, Paud Road
andBavdhan among others.
YuvrajDeshmukh, executive engineer of PMC's road department, said, "The dirt had flowed with the rain water and settled down on the sideof the streets. We have deployed our staff to make sure that thingsare in place."
Someof the branches had fallen on the electricity cables owing to theshowers thereby disrupting the power supply in many places.
NishikantRaut, public relation officer of MaharashtraState Electricity Distribution Company Ltd, said," The major problem was in Kothrud area where branches of treeshad fallen on electric cables and they were damaged at many spots. Wehad deployed our staff in three sections to repair the damaged cablesand trim the branches which can cause problems during the monsoon. The workwas going on for entire day on Friday and we managed to restore thepower in the affected areas."
Meanwhile, Kothrudresidents had terrible time with the power cuts on Thursday and Friday.
Vishal Gaikwad, a Bhusari Colony resident, said, "Formost part of the night on Thursday, there was no electricity and wecould not sleep."
SaurabhAwati, another resident, said, "Since there was no electricity,the water pump was not working. Hence there was no water in our housein the morning. Finally the power was restored later in the day."