Deep Bajaj has devised a product which lets women stand and pee without having to make contact with the dirty toilet seats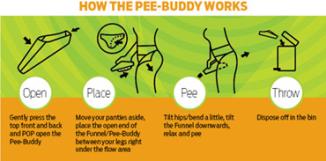 For any girl or a woman on the go, the moment we step out of the comforts of our home, there is a constant worry of 'what if I feel the need to urinate on my way and don't find a clean toilet?'. In a city like Pune where finding a clean and hygienic public toilet is a never-ending struggle, this would sound like a blessing.
To free women of this perennial peeing fear, Deep Bajaj, a Delhi-based entrepreneur has come out with a product which lets women stand and pee without having to make contact with the dirty toilet seats. This first-of-its-kind use-and-throw product, Pee-Buddy, was launched six months back. It's a waterproof coated paper-made funnel can be folded and carried in bags at all times. To use it, one simply needs to stand in front of the toilet seat, hold the funnel against the groin and urinate, which will flow away causing no spills or leaks.
Talking about how Pee-Buddy came into being, Deep said, "It was during a holiday last August that my wife and her friends would crib about not finding clean toilets on our way. We were cracking jokes on our wives that standing and peeing is something that only men can do.
And it was during that time that we thought why not make a product which could help women get rid of the urine issues." After several months of research, Deep asked his friends to try out the product. It worked and everyone came out happy and satisfied.
This product is for the women of today who wears several hats of a college girl, who likes to travel frequently in and around the city, goes out on treks with her friends; loves partying at nightclubs; a housewife or a mother, who has to go shopping for grocery, or take her children out for ice-creams or movies. A corporate executive, who flies every now and then on business trips; an event manger who has to be constantly on her toes.
One of the biggest reliefs is that women no longer have to worry about catching urinary tract infections (UTI).
"A pack of 10 funnels costs Rs 200, is way cheaper than taking a trip to the doctor to cure UTI that can cost you anywhere between Rs 300- 500," Deep adds.
It is helpful for women with medical conditions who find it difficult to sit on Indian-style seats. infection at this stage can be really dangerous. So, this product couldn't have come at a better time," says another user.