Strays bite five-year-old girl in Chinchwad, society threatens protests against PCMC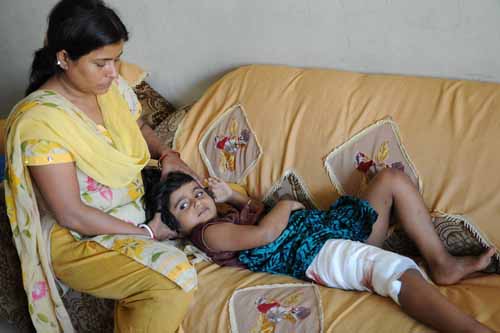 For the last four years, residents of Empire Estate in Chinchwad area have been complaining about the stray dog menace in their locality. But the apathy of Pimpri-Chinchwad Municipal Corporation (PCMC) to act on those complaints cost dear on Thursday, when a five-year-old girl was attacked by around seven dogs.
Five-year-old Ishita Banerjee was playing in the Empire Estate on Thursday evening, when six to seven stray dogs around the building suddenly attacked her, and bit her right leg. Ishita's father Arindam Banerjee, told dna, "There is a dark passage near our building leading to the playing area. When my daughter was walking through it, these dogs attacked her. When she started shouting, one of our society members tried to rescue her, but the dogs attacked him too. When a few more residents came to their rescue, all the dogs ran away. My daughter is not the first child that these dogs have targeted. In the past, they have bitten around four children. Now, children in the area are scared to play in the society."
Residents of Empire Estate have criticised PCMC for not paying heed to their complaints. Sanjay Salvi, chairman of Empire Estate society said, " It has been more than four years that we have been sending complaint letters to PCMC about the dog menace, which is increasing every year. Every time we make a complain , the PCMC staff catches few dogs, but they do not return unless we lodge another complain."
After Thursday's incident, the residents have threatened to launch an agitation against the PCMC , if it fails to find a solution to the problem.
In his defence, PCMC veterinary chief Dr Satish Gore said, "The dogs involved have been taken in by the dog squad, have been operated upon and kept under observation. The children sometimes try to play with the dogs, which sometimes can proke them. There is a need for awareness among people, especially children. We have decided to hire more agencies to catch and vaccinate stray dogs."