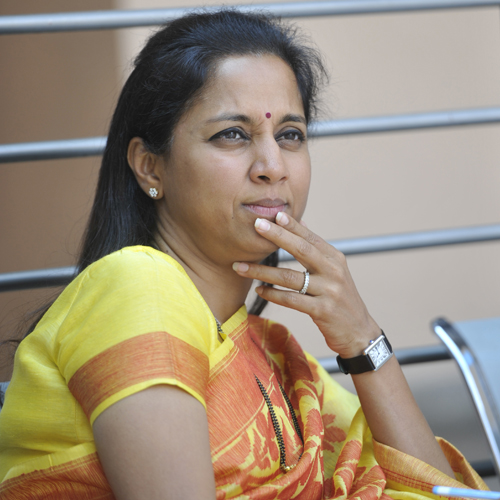 Pune: Retaining the Baramati seat which has been the National Congress Party's (NCP) bastion for decades now, NCP chief Sharad Pawar's daughter and sitting MP Supriya Sule won by a comparatively meagre margin of 69,719 votes over her closest opponent BJP-Sena-RPI mega alliance candidate Mahadev Jankar. The margin dropped considerably from over three lakh votes in 2009, indicating a tougher contest this time around to retain the seat. Sule received major blow from assembly constituencies like Daund, Purandar and Khadakwasla, where Jankar received tremendous leads throughout all the rounds.
A low margin victory
The low margin victory is actually a shock for agriculture minster Sharad Pawar as there was tremendous unrest among the people from constituency.
While Sule got 5,21,562 votes in her favour, the BJP candidate got 4,51,843 votes. Earlier it looked like a triangular contest between Sule-Jankar and AAP's candidate Suresh Khopade, a former special inspector general of police. But within the first two rounds itself it became clear that Khopade was out of the race.
Baramati has been with the Pawars for eight terms, seven of them consecutive. In 2004, Sharad Pawar won the seat by a margin of over four lakh votes and later it was in 2009 that Pawar bequeathed Baramati to daughter Supriya Sule, moving to neighbouring Madha. Sule won by over three lakh votes in 2009.
Sharad Pawar phoned party workers every half an hour
However, Sule's second term from the family fiefdom wasn't an easy victory as expected. The party workers were tense in first half of the day as a close battle ensued between Sule and Jankar. Till tenth round of counting, except Baramti taluka, Sule was trailing in rest of the assembly constituencies like Indapur, Daund, Purandar, Bhor and Khadakwasala.
So much was the unrest that Pawar himself was calling the party workers who were sitting inside the counting centre in every half an hour to get the updates. NCP workers even had feared that if the trend continued, it would be difficult for the NCP to regain the seat. However post lunch, Indapur, Bhor showed numbers in favour of Sule and her vote margin started increasing.
As per the conversation between Pawar and the party worker, who was collating the data at the centre, it was clear that Pawar was upset with the party performance and was insisting on giving him a detailed report on the Purandar, Daundh and Khadakwasala leads which were going in favour of Jankar.
Even after the win, the party workers at the centre were not in mood to celebrate as they were saying that had it been Jankar had 'Lotus' as election symbol, he would have won the Baramati seat.
Masalwadi villagers vote against Sule
Showing their fearlessness, villagers from Masalwadi and other couple of villages in the Baramati constituency, showed their anger against Ajit Pawar and voted against NCP candidate Supriya Sule. A day before the elections in Baramati, junior Pawar had threatened the villagers that if they do not cast their votes in favour of his cousin, he will cut off the water supply of their villages. He even directed his men to pick up a youth who had raised his voice. In Masalwadi, 313 votes were cast for Jankar against Sule's 290 votes.