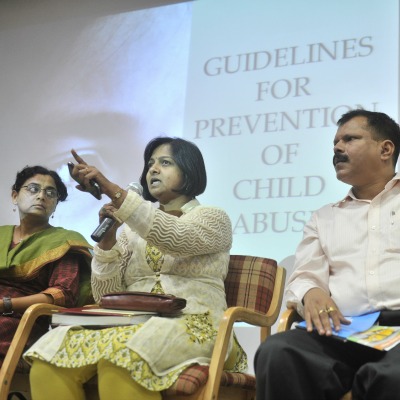 Pune: In a bid to stop child abuse in city schools, experts from various fields to have children protection policy at school level. Experts gathered at a workshop organised by Metropolis women international network at Indian Medical association on Tuesday. Principals and teachers across various schools of Pune were a part of this meeting, which was addressed by Member of Parliament in Rajya Sabha Vandana Chavan, had RTO Jitendra Patil, inspector-in charge of women security cell of Pune police Smita Jadhav, advocate Neha Satalkar who works for the protection of children, Kamini Kapadia, representative of UNICEF and Alpana Vaidya associate professor in Psychology Department in Symbiosis College in attendance.
"Different state level committees should work together, in order to provide safe environment for children", said RTO Jitendra Patil, while speaking about the responsibility that is involved with each and every department of the government.
MP Vandana Chavan urged Puneites to lead by example, implementing child protection policy with great effects. "Curbing child abuse is not an individual's responsibility, but it is a responsibility of the whole society," Chavan said.
Kamini Kapadia said that according to a national study, two of three children are physically abused and corporal punishment in schools. Subsequently, Alpana Vaidya in her speech focused on the psychological aspects of child abuse, reality and myths involved, and the consequences of child abuse. Smita Jadhav spoke about the role of police and parents, which are equally significant.