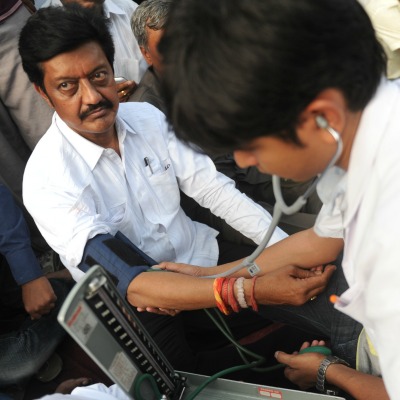 Pune: A delegation of mega-alliance led by BJP candidate Anil Shirole would meet Election Commission of India (ECI) officials in New Delhi on Saturday morning to discuss the issue of names missing from the voters' list in Pune.
After the Election Commission of India gave an appointment to mega-alliance delegation, BJP candidate Anil Shirole called off his indefinite fast on Friday evening. He said that he received a phone call from state unit president of BJP Devendra Fadamvis and has thus decided to call off his fast.
Fadanavis told Shirole that the in-charge of BJP's war room for the elections Shrikant Bharaitya met Chief Electoral officer for the state Nitin Gadre in the afternoon.
Gadre in turn contacted chief election commissioner in New Delhi and discussed the issue.
Meanwhile, veteran leaders from both the parties including MLA Girish Bapat, Shiv Sena city chief Sham Deshpande among others handed over a memorandum of demands to resident deputy collector Suresh Jadhav in this regard. Many NGOs including Sajag Nagrik Manch, Parivartan, Art of Living, Patanjali Yog Samiti participated in fast.
Complaint by 1,035 voters
The district administration made separate arrangements for receiving applications from voters whose names were deleted and it received 436 applications with complaints from 1,035 voters. Apoorva Wankhede, deputy district election officer, said that every complaint would be scrutinised and detailed report of the same would be sent by district administration to state election office.
Another opportunity
Vivek Velankar of Sajag Nagrik Manch has demanded that a separate list of deleted names can be prepared by superimposing 2012 PMC election voter's list and 2014 Lok Sabha election list. The voters who voted in 2012 and are deleted in 2014 can be given opportunity to vote on a stipulated day before the results of the election.