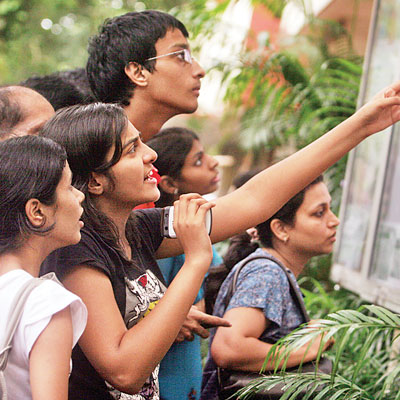 Pune : In the first merit list of class XI admissions through Central Admission Process, which got declared on Saturday evening, total 48937 students got admissions in the city colleges as per their cut off percentage. There were total 60825 forms were received by the deputy director (education) office, which had executed the on line CAP process in the city for the first time.
As usual, the Science and Commerce (English medium) remained the favoirate among the students as total 30590 forms were received for Science and 18759 forms were received for Commerce (English medium).
As it was anticipated, this year, the cut-off percentages for the city colleges increased by two to three percent. Only exception to this is Laxmanrao Apte Junior College, which has topped in having highest cut off percentage ( 95.8) in Science stream for Open category, however compared to last year, their cut off percentage has decreased by two percent.
For Fergusson College, the cut off percentage for Science stream is 94.06 compare to last years 93.82. In the Arts section, the cut off is 92.08 for English medium and for marathi medium is is 76 per cent.
In the Commerce Section, BMCC has ruled the roost with whooping 93 per cent for aided and 92 per cent ofr unaided.
In the Science strea, after Fergusson and Apte, it was S M Choksey which cut off percent for open category is 93.02 percent.
While giving instructions to students who have got the colleges alloted in the first merit list, the deputy director (education) Suman Shinde said that students need to take admission in whichever college has been allotted to you by online admission procedure.
She said that if the students who are waiting for the better allotment, do not take admission in the alloted college by paying Rs 50 and receive computer generated slip, they will go out of the admission porcess rounds and will not be considered in next rounds.
The computer slip has to be kept safe as this will be required during the betterment process and every student can apply for onely once for betterment process.
She also cautioned students and parents not to fall prey to any body who claims that he can help get them admission in the desired college.
Cut off in Science stream
Laxmanrao Apte junior college : 95.8 (aided) 93.4 (unaided)
Fergusson College: 94.6 (aided) 93.06 (unaided)
S M Choksey High School And Junior College: 93. 2 (aided) 91.8 (unaided)
SP college: 92 (aided) 90.8 (unaided)
Modern College: 92
Abasaheb Garware College: 91.5
Ness Wadia College : 89. 6 (aided) 87.4 (unaided)
Cut off in Commerce stream
BMCC : 93 (aided) 92 (unaided)
Abasaheb Garware College : 88.6
Symbiosis College: 87.4
S M Choksey High School And Junior College : 86.4
SP College : 84
MMCC : 82.6
Ness Wadia College : 81.4
Cut off in Arts stream
Fergusson College : 92.8 (English) 76 (Marathi)
Symbiosis College : 90 (English)
SP College : 87.6 (English) 68. 8 (Marathi)
Modern college : 82.4 (English) 52.4 (Marathi)
Nowrosjee Wadia College : 82 (English) 45 (Marathi)