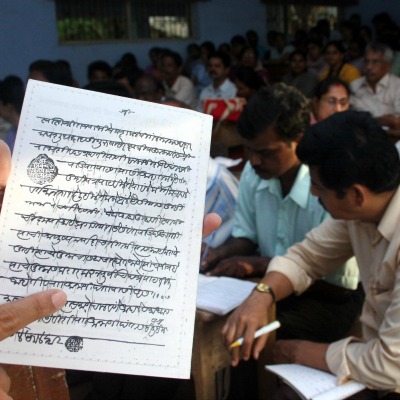 Within the calm interiors of the Bharat Itihaas Sanshodhak Mandal (BISM) at Sadashiv Peth in Pune, lies one of the biggest collections of documents and books written in a once-forgotten script - Modi. The Pune Heritage Festival that kickstarts on Sunday, will be hosting a workshop on Modi script writing as a part of its 7-day line-up.
"Pune has abundant heritage to boast of and this festival aims to celebrate it," says Prajakta Panshikar of Virasat Pune. More than 60 years after it was replaced officially by the Devanagari script, efforts are on to revive this script.
Pune historian Saili Palande-Datar says, "More and more people want to learn the Modi script now, there is a hype surrounding it today." She further elaborates that people are learning Modi for a variety of reasons. Some are learning it out of curiosity, some are learning it as an academic endeavour, while others are learning it because many of their old court documents are written in Modi. The Bharat Itihaas Sanshodhak Mandal has been running a 16-day workshop in Modi for the past few years.
Interesting facts
It has been derived from the Devanagari script
It's widely believed to have been developed by Hemadpant, who was an administrator in the court of Ramdevrao,the last king of the Yadav dynasty (1187-1318) at Devgiri
Is used in administrative documents
Has been out of use since 1950 after officially being replaced with the Devanagari