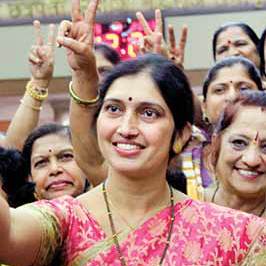 Pune: A recent tour to Japan by city Mayor Chanchala Kodre along with other party leaders has not gone down well with the civic activists. Though Kodre defended the tour by saying that it was a private tour, the activists claim that the city of Okayama, Japan, had sent an invitation to her. Moreover, the members did not inform the civic administration before leaving for the country. In her defence, Kodre added that the tour was organised by
the PMC, hence there was no need to inform the administration.
However, Vijay Kumbhar, president of Surajya Sangharsh Samiti said, "Though the mayor is claiming that it was a private tour, it is not true. As per Section 6 of the Foreign Contribution (Regulation) Act 2010, no member of a legislature or office bearer of a political party, judge or government servant can accept any invitation for any foreign trip."
According to Kumbhar, during their visit to Japan, the members held meetings with foreign delegations. "I feel just because they wanted to avoid the stringent VISA process, they termed the tour as official. This is something which is not acceptable," said Kumbhar.
However, Kodre was not available for comments.