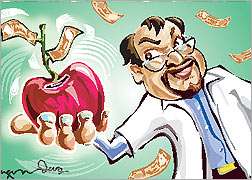 Pune: In a bid to crackdown on the rising number of bogus doctors operating in the city, with at least three police cases filed over the last couple of weeks alone, the Pune Municipal Corporation's (PMC) health department has kicked off a special drive to crackdown on such quacks.
"In the past few months, nine such cases have been detected by the PMC team of 15 officials that includes 11 food safety officers and four sanitary inspectors," said Dr Sanjeev Vavre, assistant health officer who is in charge of the drive.
The team has covered nearly 90% of the slum pocket area where complaints of unregistered medical practitioners and crosspathy are the maximum. "The initial target was slum pockets where the team collected, scanned and verified documents of all medical practitioners. We saw that people who were naturopaths or acupuncture specialists also practised allopathy and that's why we registered cases against them," he said.
The next logical step is now to expand the drive to the urban pockets of the city.
"The issues of upmarket areas are different from slum pockets, as the patients are educated, they know their rights and have basic understanding of disease. That's why it's difficult to con them. Here we often see that patients are being conned by fake claims of magical remedies. That's why the nature of the drive in such pockets would not only concentrate on people who pose as fake doctors but also those who misguide patients," added Vavre, stating that it would take some time before the second phase of the inspection drive kicks off."Patients in upmarket areas are eductaed know their rights and understand disease" he added.