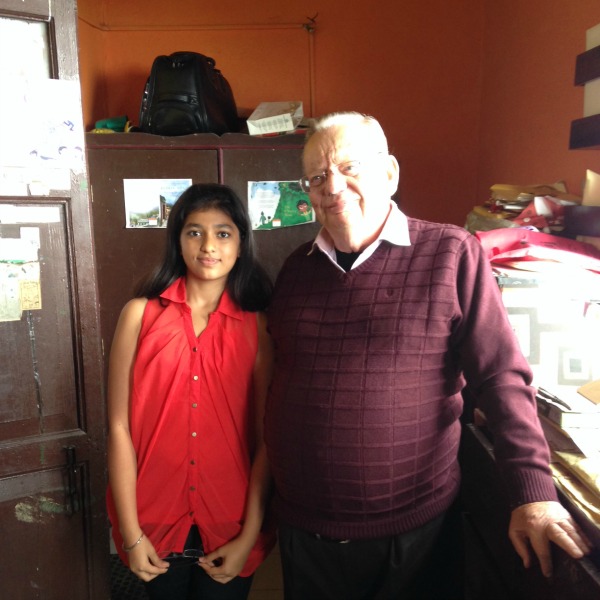 Pune: What possibly can a 13-year-old Pune school girl and Padmabhushan awardee author Ruskin Bond have in common? Their love for chocolate.
Meet Pune teenager Mehak Shivnani, sixth grader from Hutchings High School who was one of the five lucky school kids chosen in a contest by a books retail store to visit Mussorrie, hometown of author Ruskin Bond where she met the great writer himself.
"I couldn't believe that one of his three unfulfilled wishes remains owning a chocolate factory, I wish the same too!," said Shivnani adding, "But he wants to own one to give it to kids while I have more selfish motives, I want them all for myself."
Speaking excitedly about the visit, the young girl says the writing legend inspired her to take up writing fiction stories like him. "After meeting him, I feel more youngsters should venture into writing as they can give voice to the problems and dreams of the young generation."
Ruskin Bond, well known author with hugely popular children literature under his name, guided five children across the country who won the 'Child Reading to Child' competition by a book retail store. "It was like a dream come true for me. Firstly, I was surprised to see such a big celebrity living in a small and cozy house where his books and awards have occupied most of the space!" So what is that she learned from the maestro of words? "He explained to us how the respect and command over the language is important to become a good writer; he also asked us to observe and
learn as much as possible."
The spunky little girl also asked Bond about three unfulfilled wishes and while owning a chocolate factory was one of them, he also said he hoped to fly and become invisible one day.
So how she plans to incorporate the words of wisdom by the author in
her life? "I want to write a lot of fictional stories. I have been writing a few for sometime now. I am also studying to become an engineer but I plan to balance both things at a time. I will write
about fiction, magic and horror; and the stuff our generation likes to read. I feel that if a youngsters starts to write; they can voice the opinions of this generation and convey it to people in a revolutionary way."