College authorities took it upon themselves to ensure their students didn't miss out on voting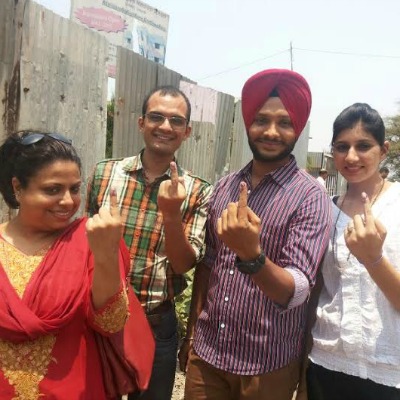 Pune: College of Military Engineering, Pune took ardent efforts to ensure that not only the students studying in CME enrolled in the voters list but each one went ahead and cast their vote.
As a result, several first time voters including the outstation ones got registered within a month ready to vote for the first time.
The immense task of registration in Dapodi began a month ago, and the whole process was conducted under the supervision of the CME's faculty members. "All that we had to do was fill up a form to register ourselves," said Major Sudeshna Bannerjee, a student at CME. Since the whole process was centralised, there were lesser issues of negligence or names not appearing in the list.
"We were given ample time to submit our documents easing the whole documentation process," said Sudeshna.
However, registration is just the first step. Until the voters turn up at the booths, the efforts go in vain. To ensure maximum voters turn out the students at CME were given a holiday. As the young voters returned from their booths, they were required to show their inked finger at the entry gate, as a proof of the day being genuinely utilised.
With around 400 army officers registered at Dapodi, the only trouble was finding Ganesh English Medium school which happened to be their polling booth. Captain Abhinav Rawat, who's studying at CME complained about the feasibility of the location.
"The school was difficult to locate. We couldn't even find it on Google maps," he said. According to Rawat, the only relief in the poling booths happened to be the helpful officers who guided the voters specially senior citizens in every possible manner.