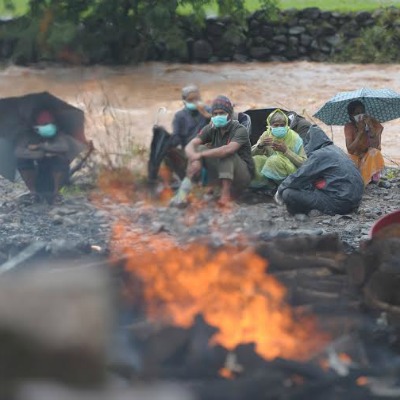 Pune: On July 31, when three-month old baby survived in the Malin tragedy she was called miracle baby. Little did the three-month-old baby knew that her crying would help the rescuer locate her and her mother. Similarly, Pote family was hoping that their nine-month old baby boy is saved in this tragedy like the miracle baby. But their hopes were shattered on Monday, when six family members dead bodies including the nine month old boys was extracted from the debris during the rescue operation.
It was the morning of July 30, when Shelkande family got the news of landslide at Malin village and they rushed the Malin village. It was a heart wrenching site for them as the entire village was flattened and six of their relatives were missing. Since that day, Shelkande's were camping at Malin hoping for some good news of their relatives but on Monday morning their hopes were shattered when they identified their relatives' bodies. Among them were senior citizen Janakabai Pote, her daughter-in-law Kamal Pote, Kamal's son Shivaji Pote and his wife Jyoti Pote, Kamal's daughter in law Kanchan Pote and her nine month old son Aditya.
Kanchan Pote's sister Hirabai who was not able to control her emotions told dna, " Kanchan was staying in Mumbai with her husband and she had come to Malin for delivery. After the delivery, she preferred to stay at Malin thinking that her in-laws would help her in taking care of her son. She was planning to move to Mumbai after her son's first birthday, but unfortunately, before we could celebrate his birthday, we lost them."