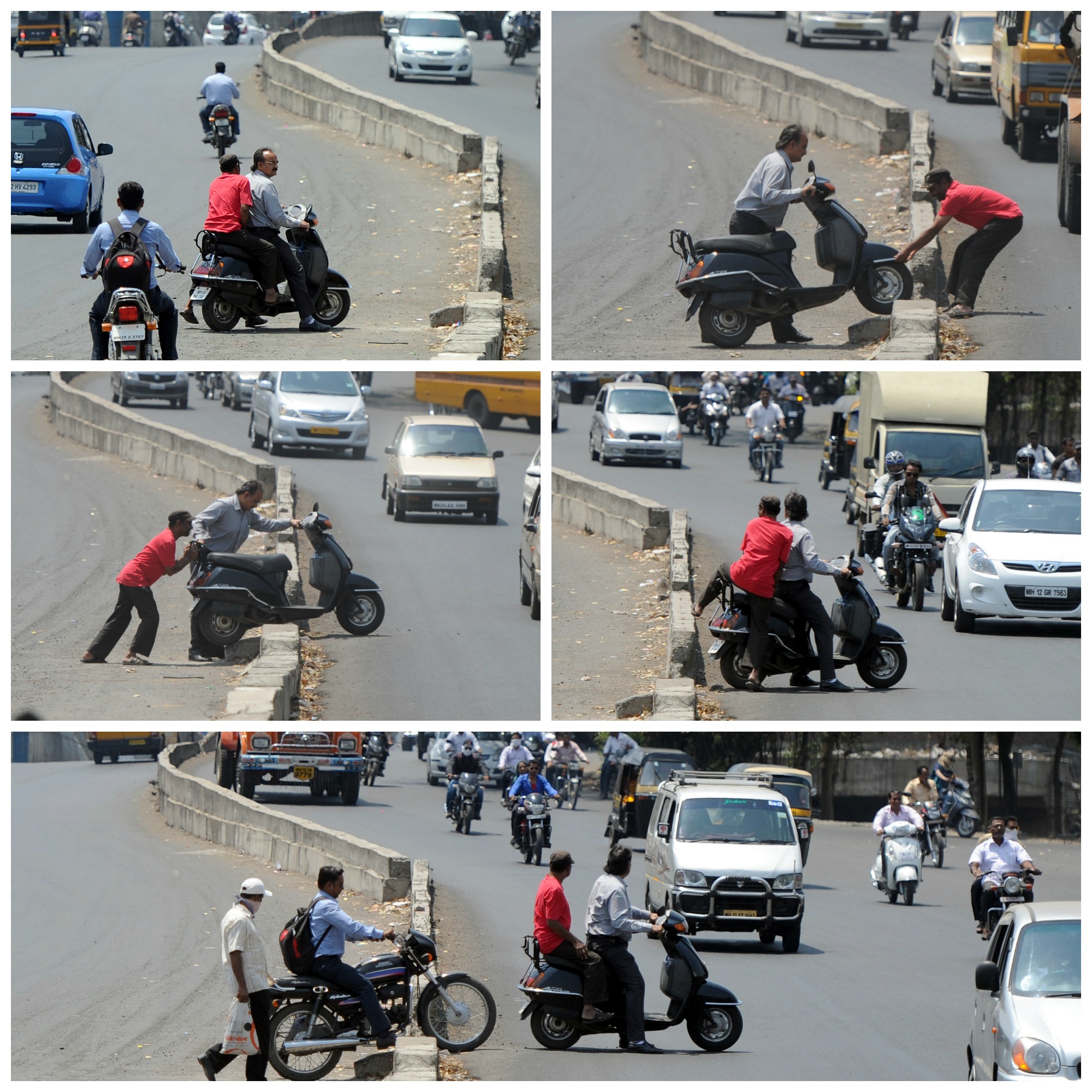 Pune: The idea of constructing the Bus Rapid Transit System (BRTS) lane on the Pune-Ahmednagar road was for faster movement of traffic. However, the lane is not operative and to make matters worse, travel distance for commuters on the Ahmendnagar Road has increased, as right openings on the stretch of Shastrinagar to Vimannagar have been closed.
Commuters staying in Viman nagar and Kalyani Nagar area have to travel nearly 1.5 kilometers extra if they have to go to the opposite lane on Nagar road, which not only increase travel time by around 15 minutes, but also adds on to the cost of fuel and traffic congestion.
The chowk at Hotel Hyatt is not the only chowk where right turn for vehicles is banned.
Team dna visited the Nagar road only to find that this is indeed the case. The team also observed that some commuters opt for shortcuts to avoid travelling the extra distance, which can be dangerous.
The traffic department claims that there is not much that can be done about this situation. Senior police inspector (traffic planning), Rajendra Kamire said,"The BRTS lane is designed in such a way that there is fast movement of buses from one corridor to another, therefore there is no scope of open punctures. That is why commuters who are using private vehicles are facing the issue of traveling extra kilometers."

Experts speak
Speaking to dna,Qaneez Sukhrani, convenor of Viman Nagar Citizens Forum, who has been quite active on the BRTS route for a long time said, "It is essential that subways and grade separators should be constructed for commuters who are traveling on the route. All the open punctures have been closed so that private vehicles should not enter the BRTS lane, however alternative arrangements should be made and it should be well executed with proper planning, which will make it a win-win situation for the citizens."
President of the National Society for Clean Cities (NSCC) Satish Khot said, "There has to be proper planning for smoother vehicular movement in the area and convenience of private vehicle commuters also should be taken into consideration."
Vox Populi
Ashish Raisinghani (40), resident of Kalyani nagar said,"Everyday I have to travel about two kilometer extra before I could reach to the place from where I have to take the turn for my residence. It is a nightmare that we have to live with every single day."
Datta parasad Palini (30), resident of Viman Nagar said,"There right turn at the major junction like aga khan palace, Ramwadi junction should have been open unless the BRTS does not start there was no sense in closing the right turn, due to this thousand of commuters traveling on the route have to face a tough time."
Anwita Singh (23), resident of Kalyani nagar said,"It is a tough task to travel on this route as the road is chopper blocked during the peak hours, on an average it takes me more than 15 minutes before I can take a U turn, in the process i loose my time, money on fuel."