After a tension-filled Sunday, cops insist all is well in city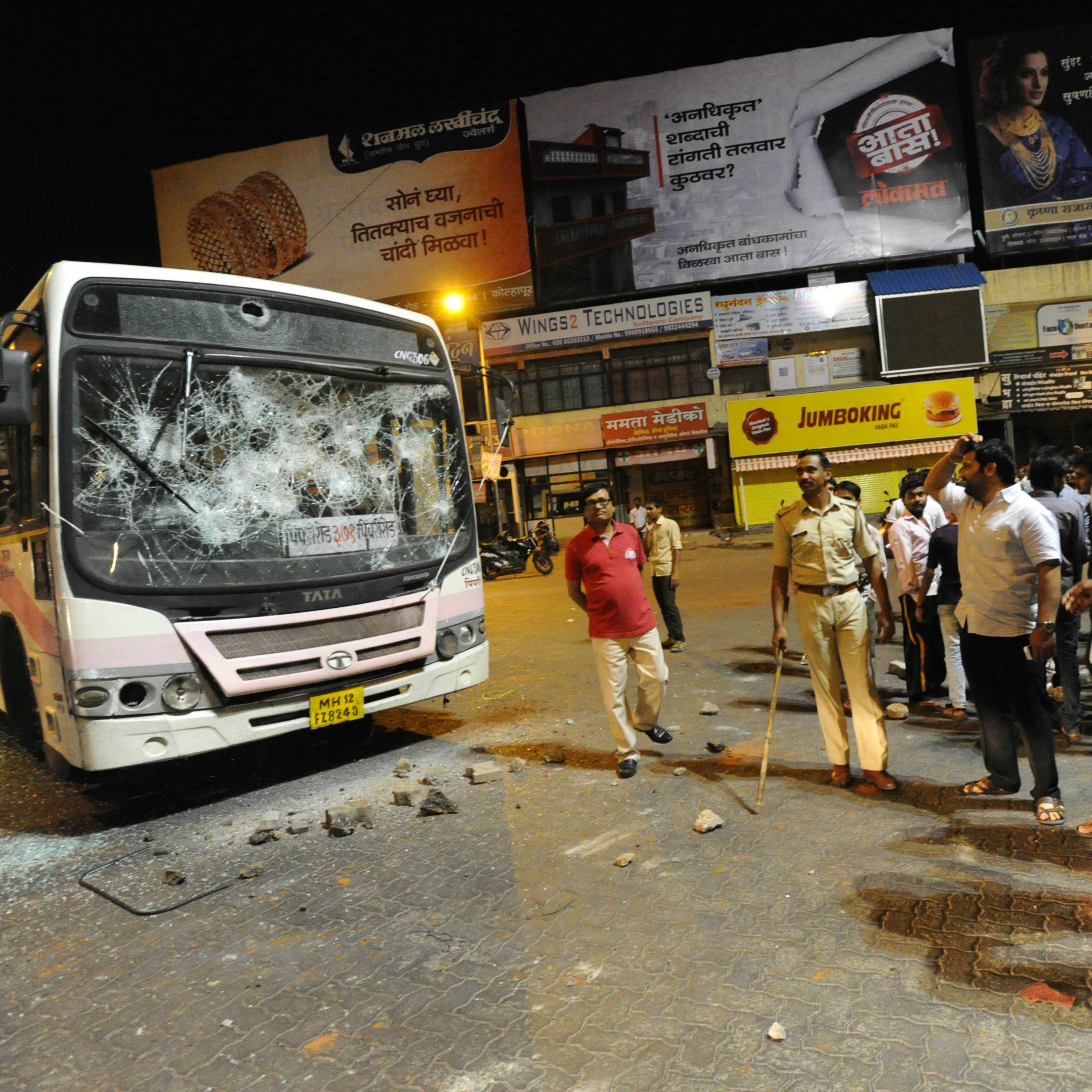 Pune: After the angry mobs took over parts of Pune and went on a rampage on Sunday, Pune police have promised that Monday will not see a repeat.
Over 190 PMPML buses were ransacked and several areas saw incidents of stone-pelting, besides shop owners being forcibly asked to down shutters in the Pune and Pimpri-Chinchwad areas following the derogatory and objectionable images that were circulated on social media sites. By evening, however, the tension subsided with traffic resuming back to normal and markets reopening.
The Pune police detained over 100 people across the city by Sunday evening. Joint commissioner of police Sanjeey Kumar said, "The heavy bandobast deployed on Sunday will continue on Monday as well and people need not fear of any untoward incident and can go to work. Three companies of SRPF, three Quick Response Teams along with the entire police force including over 8,000 local police will be deployed. Our focus will be on Zone 3 and Zone 4, i.e., Pimpri Chinchwad, Hadapsar, Yerawada and Vishrwantwadi areas that are more sensitive." He added that additional DCP-rank officers will be deployed in these areas to keep a vigil on anti-social elements. Deepak Pardeshi, PRO for PMPML said that they are geared up for a normal commuting day.
Trouble began on Saturday evening in Chinchwad after reports of derogatory content about Shivaji Maharaj and late Shiv Sena chief Bal Thackeray on social media sites. Soon the protests spread like wildfire across the city. The most affected areas were Kothrud, Sinhagad Road, Hadapsar, Tilak Road and all the PCMC areas where incidents of bus ransacking and arson took place. Despite being a Sunday, the citizens chose to remain at home and avoided outings. In Kothrud area, especially near Bhosari Colony and Mahatma Society Karve statue all shops were forced to down shutters. Even the ATMs were shut while the Pimpri-Chinchwad belt saw most of the stone-pelting activity.
In Tilak Road and Sinhagad Road, people kept off the roads as PMPML buses were damaged while in Hadapsar too angry mobs pelted stones at shops that were seen doing business. At Sinhagad Road, even petrol pumps were forced to shut down.
Commuters
stranded on E-way
The traffic on Pune-Mumbai expressway was disrupted for one hour between 12.45 pm and 1.45 pm after protesters staged a 'rasta roko' near Kiwale bridge. Hundreds of activists and local corporators had gathered at the bridge. One of the officials from the highway police said that since Kiwale is the junction where expressway and old Mumbai -Pune highway meet, the blockage here caused major traffic disruption as vehicles from all the sides got stranded. Umang Oswal, co-founder of Pune Instagrammers group who was travelling from Khopoli to Pune was one such person stuck in the jam near Urse toll plaza for over an hour. "I didn't know what was happening. There was a long queue of vehicles and traffic wasn't moving. It was only after the traffic cleared and I saw police vehicles and protesters at the toll plaza that I realised a 'rasta roko' was being staged. "
Buses and trains delayed
At Pune railway station's ST bus stand, the passengers had to face inconvenience due to delay in the bus movement. Sangeeta Barve (25), a resident said, "I work in a software firm in Mumbai and I had to report at my office at 4 pm but now that I am stranded here I wont be able to report on time." The buses were allowed to go at 4:15 pm after a delay of 6 hours. About eight trains were half-an-hour late till 11 in the morning. Passengers had to face a lot of inconvenience in the morning hours.
Police inspector, citizens hurt
Nilesh Jagdale, an assistant police inspector attached with Hinjewadi police station sustained head injuries after a group of protesters attacked him when he tried to stop them from stone pelting on hotels and roadside shops. The incident took place on NDA Pashan Road on Sunday morning. Camp-based property consultant Shreya Shewale was hit by a bottle hurled by a mob. "I was going to Warje to meet my friend and when I reached on Laxmi Road, I saw a huge mob who were shouting slogans. When I went ahead, someone threw a bottle which hit me on my back."
Cyber cell begins probe
After the Kothrud police registered a case under relevant sections of IT and IPC, the cyber cell of the Pune police has started investigating the case and managed to block three links which were taking rounds on the social media site. "We have managed to delete the posts and have written to the Computer Incidents Response Team to provide information related to the posting of objectionable images," said DCP (cyber) Rajesh Bansode. He said that since the servers of these social media websites are based out of India, the investigations will take some time.