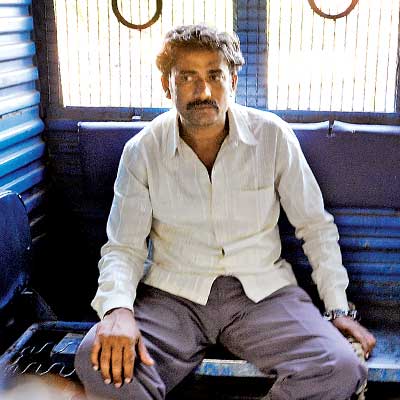 Santosh Mane, the state transport bus driver who was given the death penalty for mowing down nine people and injuring several others in an incident in 2012, has sought to be re-examined by a psychiatrist or any doctor from outside Pune to prove that he was in an unsound state of mind.
The 36-year-old driver's lawyer, Jagdish Mane, put this request on Tuesday to the Bombay High Court, which is hearing a petition by the state government to confirm the death sentence.
Mane has challenged his conviction on the ground that he was of unsound mind and was undergoing treatment for mental illness.
The lawyer told a division bench of judges NH Patil and Anuja Prabhudessai that Mane had been examined by doctors from the Yerawada mental facility who certified that he was fit to undergo trial. But the doctors were never examined as witnesses by the prosecution about the certificate they had given.
"The doctors from Pune are biased. Mane should be examined by a psychiatrist from any other civil hospital in Maharashtra," the lawyer argued.
The judges asked the lawyer whether this issue had been raised before the trial court. The judges also observed that if the prosecution had not examined the doctors as witnesses, the defence could always have called them as witnesses.
"You have to make an application if you want the convict to be examined. We will hear your application and see if a case is made out. This plea of unsound mind can be raised during the hearing of the appeal also," judge Patil said.
The court posted the matter for further hearing on April 29.
On January 25, 2012, Mane hijacked an empty state transport bus from the Swargate depot in Pune and drove off on the wrong side of the road, catching oncoming traffic and people unaware.
Mane drove about 25 km, rammed into vehicles and knocked down pedestrians. The police and some passersby chased the vehicle and managed to detain the driver.
In December 2013, the sessions court in Pune held Mane guilty and awarded the death penalty for the crime, calling it a rarest of rare cases that demanded the extreme punishment.