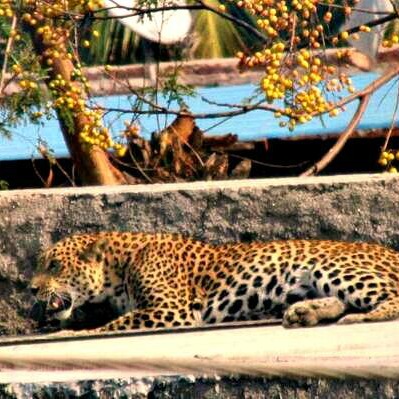 Pune: Fear loomed large in Chakan and its adjoining areas after a leopard was spotted of the rooftop of a house in the area on Wednesday, not just for the unsuspecting residents but also for the leopard.

The forest officials along with the local residents of Chakan laid a trap in the area to capture the leopard but to no avail. The leopard has injured two people including a school student.

The leopard was first spotted in Bhiradwadi village in Chakan. Around 8 am, few dogs started barking prompting the local residents to move out of their respective houses. It was then that they found him on a roof top. Later, the news spread in the entire village who walked out with a stick their hands.

A local villager Sandip Jadhav said, "After the news spread everyone was directed to close the windows and doors of their house. However, school children rushed out of their schools to have a glimpse of the animal. Thankfully, no one got injured. We then informed the local forest officer. Two days ago, the leopard was traced in Khed village and we had already warned the forest officer that there are chances that he will come to our village."

Rural SP Manoj Lohia said that the crowd rained stones and to drive the leopard away, but it ran towards Rohkel village after which it could not be traced any further.

Deputy conservator of forest Arvind Apte said, "The two citizens who received minor injuries are out of danger. The state government will be bearing all the expenses of the injured. We rushed to the spot along with the animal rescue force and veterinary doctor Dr Anil Virat. Before we reached, the local residents had already cornered him from three sides. Two hours later, we traced him in another location on a tree but he fled away. We have laid traps for him in three different locations and hoping that he will be trapped."

The leopard was not traced till late on Wednesday and hopefully has retreated to the safe heaven of the wild. This incident opens discussion on a much graver situation of leopards entering villages to seek food and water as summer approaches.