Governors are representatives of the president at state level. dna asks readers if we should do away with the governor's post and get out of this Raj era complex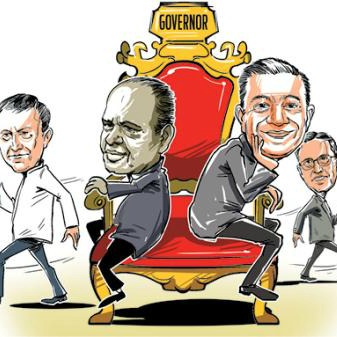 A governor has important roles to play...
The DMK and the Akali Dal had suggested that it should be dissolved but after a while even they went quiet on the whole issue. Over the years the post has consistently lost its shine and a part of this is because it not is being used as per the rules. There are many non political functions that the Governor performs like being the vice chancellor of the universities in the state. As per the 2010 ruling by the Supreme Court, change in the government cannot be a ground for removal of the Governor but for this to happen, the position must be taken up by a non political person with a clean background and past, so that his integrity cannot come in question.
—Ratnakar Mahajan, State Congress Spokesperson
Governor's post shouldn't be used for political vendetta...
The provision of appointment of the Governor by the Central Government instead of an elected Governor is actually a deviation from the Federalist philosophy. The constitution had laid down the principle of appointing a senior statesman who should be apolitical in his conduct. Since no Government has followed this principal and the appointing or removing a Governor became a tool of political vendetta between the ruling parties in Central Government and the States ruled by opposition parties. In order to prevent this politicization of the gubernatorial post, the recommendations of Sarkaria commissions needs to be considered wherein the appointment and removal should be done with the consensus of central-state government. The post of the Governor shouldn't be used to rehabilitate the senior politician or to do away with an unwanted politician.
—Vidyabhushan Arya, Political Analyst
The post is necessary for administrative purposes...
If we do away with the governors post at the state level, what will happen during the presidents rule? Who will look after the administration at the state level? The Article 356 about president's rule mentions that the president can dissolve the assembly or keep it in suspended animation. During this period there has to be somebody to rule at state level and naturally it has to be governors. As per the principle of federation of the 35 states of India, it is almost the replica of the central setup. The president appoints the ministers in the centre, whereas the governor appoints the ministers at the state level. A governors administration at state level is almost the replica of the central administration. Principle of federation has to be maintained. The need of the presidents rule has to be conveyed by the governor to the president and the president acts accordingly.
—Bhai Vaidya, veteran socialist leader
It is a wasteful expenditure of public money...
We should do away with posts of governors as there is lot of wasteful expenditure behind these posts. Except for cutting ribbons and giving dinners, the governor's post is nearly decorative and ornamental. We need to relieve ourselves from the hangover of the past. When the first election in India was held in 1937, the first chief ministers started ruling the states. The governor remained as a nominated person and did not hold any real power. In a democracy the power should go an elected representative, which happens to be a chief minister. Today we don't need governors. In an event of presidents rule being imposed the power will lies with the chief secretariat of the state, who will report to the cabinet secretary in the centre.
—Bhanu Kale, Editor, Antarnad
Governor's shouldn't be politically affiliated...
Changes need to be made with regards to who takes up the post. According to the constitution, the Governor's post must go to a person who does not have any political affiliation. But, in the last 60 years we have seen the post being transformed into a political position, which is wrong. One cannot say that this has been done by Congress or BJP, all political parties have done this to the position of the Governor and if this is to continue, I would suggest that dissolving the position would be a better option. If the parties decide to use it correctly then the position still holds a certain dignity that comes with it.
—Madhav Godbole, Former Union Home Secretary