The special workshop at Kalyaninagar Joggers Park saw an overwhelming response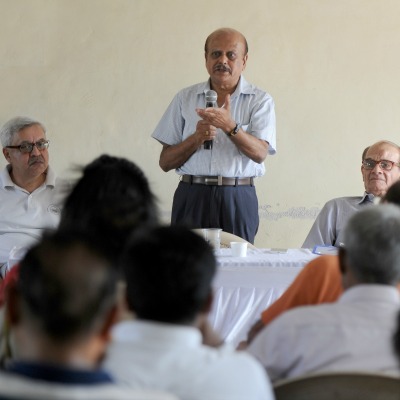 Pune: While below-normal rainfall has been predicted by the India Meteorological Department (IMD), the citizens of Kalyaninagar are already gearing up to create awareness about the importance of the Rain Water Harvesting. Apart from the the three Rs of water conservation 'Reduce, Reuse and Recycle', a fourth and more import concept of Recharge was added on Friday, signifying the importance of rainwater harvesting (RWH).
Considering the water shortage that the city is likely to face, dna have taken up an initiative to promote rainwater harvesting in the city. Under the campaign, a workshop was organised in association with Kalyaninagar Residents Association at the Kalyaninagar Joggers Park on Friday, that enjoyed an overwhelming response.
At the workshop Col (Retd) Shashikant Dalvi, director of Parjanya, a rain water harvesting consultancy, President of KNRA DP Bhatia, and other citizens not only from Kalyaninagar, but also from other parts of the city participated.
Explaining the importance of the RWH Dalvi said, "Nearly 65 per cent of the urban population depends on ground water to meet their daily needs. But due concretization, only eight per cent rain water percolates to the ground. RWH system injects the rain water directly into the bore well and recharges ground water."
"The water table of Pune is varied, where the fringe areas have high-ground water level. The societies in these areas tend to opt for water tankers and spend lacs per month. Instead, RWH system costs 40 to 60 rupees per square feet and harvests 70 to 90 liters of rain water. Once the ground water recharges there is no need of water tankers too," added Dalvi.
The workshop was also attended by members of some societies that have taken up RWH in their societies, and they shared their experiences. Nitin Warty, a resident of Sky lounge residential complex in Kalyaninagar added, "Our society has made a soak pit where through, which the rain water percolates to the aquifer below." He also said that soak pits and recharge pits were harvesting options for societies with no borewells.DP Bhatia, chairman of Kalyaninagar Residents' Association explained how the RWH can work in favor of increasing the yield. He said, "The groundwater aquifers are connected to each other. When a dry aquifer is recharged it connects with the neighboring ones increasing the water output."
The audiences were also excited to know the various affordable techniques of RWH can be adopted which were explained by the experts.