BJP workers distribute sweets, celebrate victory with gulaal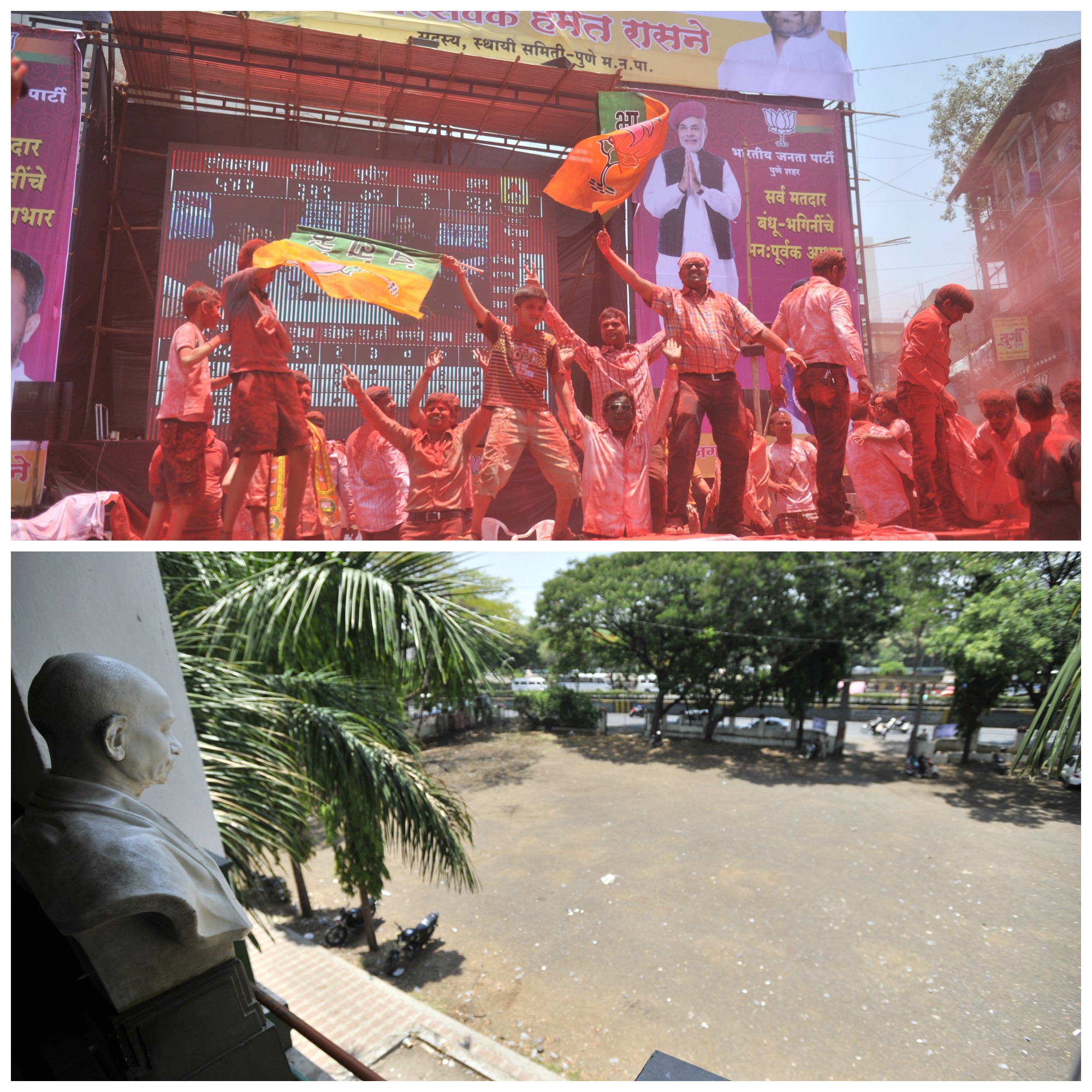 Pune: A feeling of anxiety was palpable among workers of the Bharatiya Janata Party and Congress before the counting started on Friday. However, as the counting progressed BJP workers started celebrating while there was a sense of grief among Congress supporters.
The BJP party office was draped in saffron with party workers playing with gulaal and celebrating Anil Shirole's victory.
Just as the counting started, the city had a different mood altogether. Citizens were anxious and excited to know who the victor was and both leading party offices wore distinct looks.
The vote counting centres saw mixed reactions from workers of both parties. Right from the first round of counting it was clear that the BJP candidate Anil Shirole was getting more votes when compared to Congress candidate Vishwajeet Kadam.
When this happened Shirole said, "Thanks to Punekars for showing support. The betterment of Pune and its infrastructure will be my priority. It looks like BJP is getting the majority at the Centre, so India will get a stable government without any outside party support. Now, it will be easier to take decisions without any other party's pressure."
While BJP workers wore smiles and a sense of relief on their faces, Congress workers were struck with shock and grief. As counting went on and Shirole started leading with higher margins, the unexpected vote results made Kadam leave the polling centre early in the morning itself. Due to this, Congress supporters too left the vote counting centre and by the end only a few remained while the rest took updates on their phones.
This even led to a grim silence at Congress Bhavan where there were just a few party workers watching the result announcements patiently on television. The huge parking lot was almost empty and just had a few police officials there. "With the trend it is quite likely that BJP would win, though we will be upset with the defeat but we will not lose hope," said a Congress party worker.
"We have also set up a large screen near Shrimant Dagdusheth Halwai Ganpati Temple for party supporters and citizens. The celebrations have started with dancing to the 'NaMo' song," said a BJP party worker.
At Dagdu Sheth, Navi Peth and Shanipar there was nothing less than a festive mood for BJP and Modi supporters. With Dolby systems, firecrackers, saffron colours and loads of sweets a never ending-party had begun from noon. It was festive like Holi, Diwali and Ganesh Chaturthi being celebrated together.
At Balewadi, where the counting of votes was in progress for the Shirur and Baramati seats, the atmosphere was charged as party workers were huddled outside counting booths. They were tense as the administration wasn't very well organised and announcement of results was delayed.