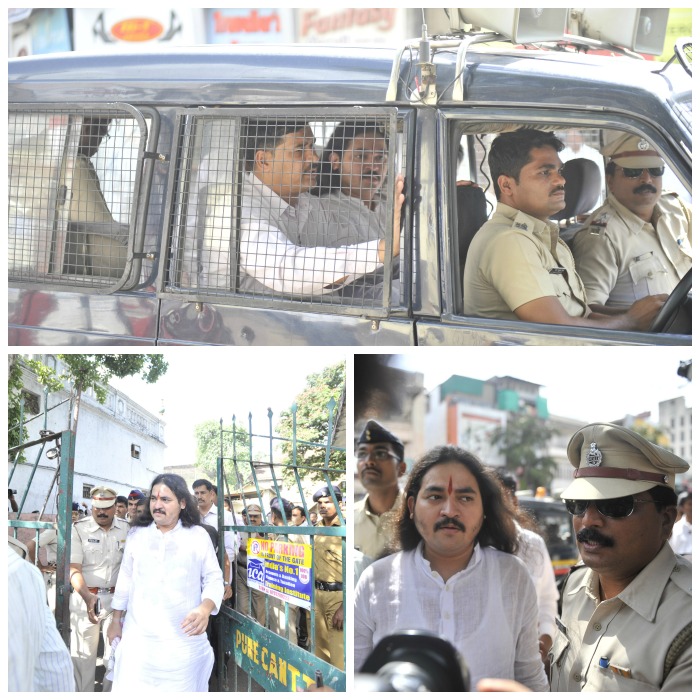 Pune: Police investigations in the techie murder case have revealed that the provocative messages were circulated from Hindu Rastra Sena chief Dhananjay Desai's office in Mumbai to other people, which turned to sequences of violence in the city. This revelation has come during the argument of Assistant Public Prosecutor BR Patil on Thursday, when Desai along with 22 others was produced before the court of judicial magistrate P D Zambare.
Desai, who was in police custody for a day was produced before magistrate Zambare with 22 other arrested persons in the murder of Mohsin Shaikh, 28, an IT manager. Patil argued that Desai should be remanded in police custody for five days. He argued, "During investigation, police suspect that the provocative SMSes, clips were sent from Desai's office situated at Vile Parle. Desai is not co-operating in the investigation."
Prior to argument Desai's lawyer Sanjeev Punalekar pointed magistrate that Desai was waiting in the court passage. Magistrate Zambare directed the police to bring Desai inside.
Defence lawyers Sanjeev Punalekar, Chetan Bhutada, Smita Nikam, Narayan Pandit and Atul Malviya argued, "Sufficient time has been given to police for investigation and for seizing the computer from his Mumbai-based office, hence, his custody is not needed. The police has already raided his house and also interrogated his relatives"
After hearing both the arguments, magistrate Zambare has remanded Desai and 22 others in judicial custody for 14 days. Soon after the arrested persons were remanded to magisterial custody, the defence lawyers have moved the application of bail in Sessions Court, which will hear the case on Friday.