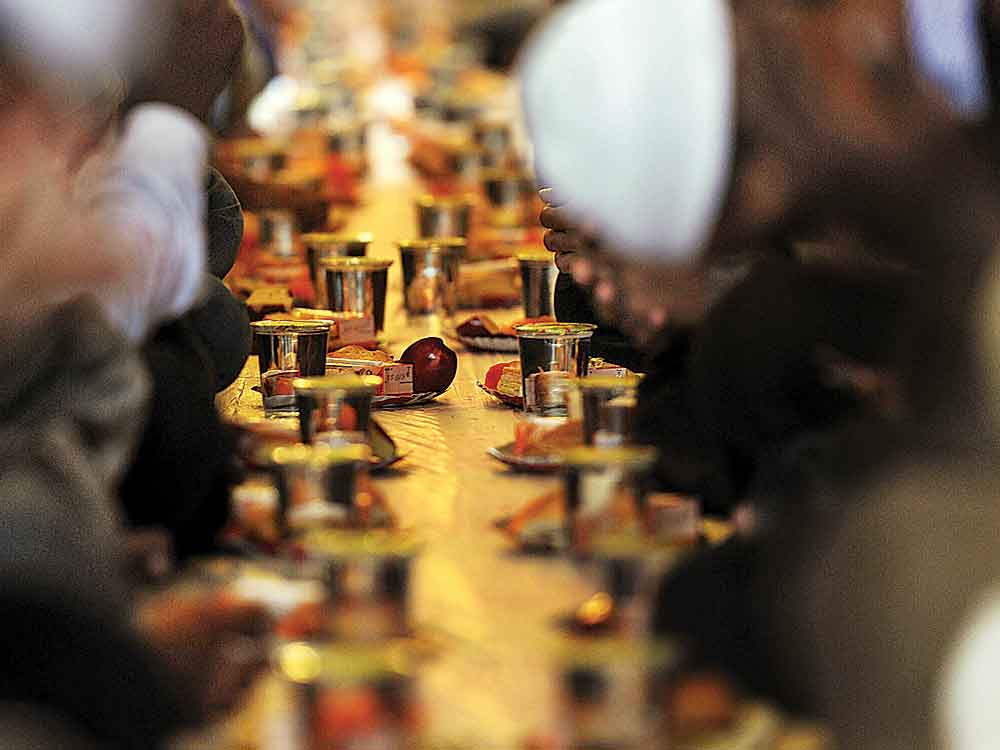 Pune: The month of Ramzan is considered to be the most sacred month of the Islamic calendar which follows a ritual of fasting and prayers from dawn to dusk. With sunset, it's time for iftaar when feasting follows rigorous fast and the contrast at the buffet parties couldn't be more stark. The city has its fair share of such banquets, some organised by Muslim charitable organisations and others by local restaurants and caterers. This year dna visited a few iftaar stalls in popular locations of the city, to check out this year's stall displays and food item ranges, along with quality of the preparation, service, storage, hygiene and more.
Azam Campus
It is the vicinity around the educational institute of the same name which is one of Pune's most popular and populated areas during Ramadan iftaars. The area starts buzzing with activity right from 4pm and while mostly frequented by groups of men, groups of families can be seen frequenting the iftaar stalls here too. We tried a few caterers too and here's what we saw.
At Shalimar's which is a catering service business run by a group of friends for the past 15 years, incidentally one of the biggest iftar stalls we found on Hidayatulla road, the crowds were the maximum. Claiming to specialise in Mughlai and Italian dishes, we failed to see the Italian dishes that he claimed to specialise in. Though the Mughlai fare was quite a range. Priced from Rs 8 to Rs 200, the stall had nearly 60 different food varieties to offer and the owner said the number would touch 100 by mid Ramadan. However as compared to other stalls.
For a stall of its size, which was one of the largest we saw in all areas that we visited, it is well managed and organized and the service was really quick. There were nearly 10 tables in an inside area where we saw mostlyt families. The one thing we noticed that women customers were at ease and one could visit this place with family or lady friends. The whole area is kept very clean and the food items are displayed and stored in a hygienic manner. We tried the mutton cutlets (Rs 40 compared to Rs 10 at other stalls) chicken samosas (Rs 25 per piece), chicken kathi kebabs and we had no reason for complain whatsoever.
Agra Kabab Corner is on the other side of the gate across Shalimar's, and is a 21 year old business that is run by Azim Gudakuwala. His two sons, doctor and an advocate, keep their evenings free to serve iftaar at the stall. The stalls offers 50 dishes available for Iftar. Their Tandoori items are quite famous, at a price of Rs.300 for a full chicken. We recommend the Chicken Kadai at Rs.300, Bakri Kadai at Rs.900 per kg and the special item on the menu is a winged bird - the famed 'bater' or 'teetar' as some call it proced at Rs 100 for one portion, cooked in their special spices. We found that the display, storage, handling was quite hygienic but there is one problem - either eat out of a plate jostling a crowd as the stall gets pretty crowded by evening since it doesn't have any seating arrangements.
We found one more stall here in this stretch, the Agra Hotel stall. This stall starts serving at 3pm and they have only about 25 items for iftar. They say that their fare is the regular kebabs, chicken cutlets and samoas for Ramadan and they believe in maintaining the quality rather than expanding the variety. They have been putting up this stall for nearly 15 years now and the kadi gosh served here is quite a burst of flavors in your mouth. We tried the chicken lollipop (Rs 15 per piece) which was quite nice, chicken cutlet (Rs 10 per piece) and kebabs on a stick (Rs 25 for 2 pieces) which were strictly average, chicken samosas (Rs 15) but we found it very oily and barely any chicken.
Kausar Baug, Kondhwa.
While this place offers goodies all here around, most of the dishes get sold out at the stalls even before Iftaar timings. We tried Sharif's Caterers, which is the biggest iftar food stall that we visited in this area where we found the biggest family crowd gathered around. It's a 13 year old family run business, which starts serving at 4.00pm. This stall has over more than 120 different iftar food items, with the caterer claiming that their speciality items being - Chicken Chakori (Rs 60, boneless pieces of chicken marinated in chakori spices served in a toothpick), chicken makka (Rs 30) which was fried chicken in shape of corn kernels and chicken lollipops (Rs 140 for six pieces), which were quite regular. The phirni priced at Rs 70 a piece though expensive was the best item on the menu. But what we saw next made us throw up our food -- a cockroach near the food stalls where food items were kept uncovered. The stall is also a bit disorganized and we found workers were arguing among themselves rather than serving customers. However their delicious phirni (priced at Rs 70 )saves the day.
The other caterers that have set up stall there are Imdadi Caterers whose tandoor items and chicken biryani (Rs 150 per plate) was touted as their special items. We tried and we liked. They have a seating area too, which is one of the largest at any of the stalls we visited with a separate family section.
Kondhwa area
Al Amin Caterers - the stalls is opposite Sheetal petrol Pump, Kondhwa makes it tough to take your family there and the surroundings are not that clean. They have a special dish called the Chicken Satay (priced , which is a burst of flavors in your mouth. . The area is a little rushed, and it may take a few minutes before you find your way but you can delight in a range of items and you won't be let down. On the parallel road we found Savera caterers, a small stall well located owned by two brothers Wasim and Nasim Khan. This is the first year they have decided to set up an Iftar stall. They open their stall at 4.00 pm and their items are sold out by 8.00 pm. With only a few items served they are doing pretty well for their first year in business. Their range of items included the usual Kababs, Lollipops, Cutlets, etc and none of these were a disappointment.
Mominpura Road.
While an usual day at Mominpura, primarily a Muslim suburb which is a residential area with a small market, transform into a veritable mela of food post 4pm during the month of Ramadan.
Bismillah stall is big stall for a narrow road, and has close to 70 different items available. Sayed Shahid the owner of this restaurant has been setting up this iftar stall for the past 20 years at the same location. At this stall you will find people from all stratas of life. They serve some exclusive specialties that won't be found at other stalls. Those include Achar gosh (Rs.60.00), Bismillah gosh(Rs.60.00), Dalcha khanna(Rs.60.00) among some other dishes. There's an eat-in service available that starts from 7.30 pm as well. This stall gets an average rating on cleanliness and coordination, but you'll get good service. It's a big stall on a crowded street, you may lose your way there, but the iftar food served is worth it.
We found a lot of small sellers, but this year was a disappointment as there were not many Iftar stalls to indulge in.