kicking the ball | Most of them show their enthusiasm when a match begins, but they are at a loss when asked about rules of the game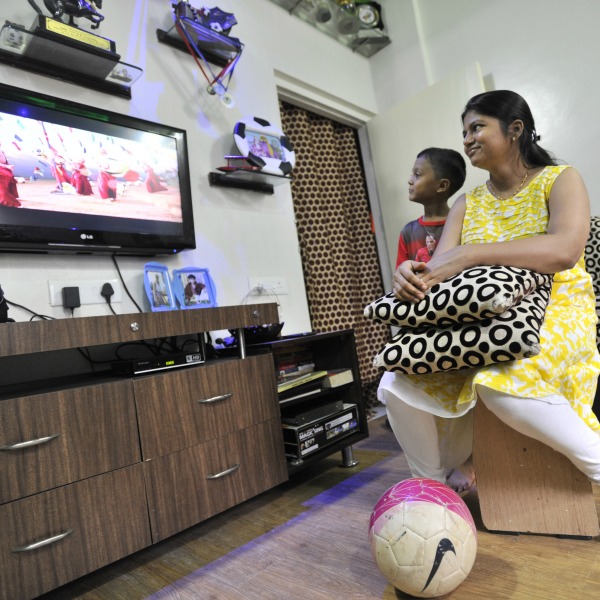 Pune: Women's football in the country does not look bright at all, but women surely seem to have picked up a liking for the game, especially during the World Cup.
Although it is quite taxing getting a child ready for school in the morning, housewives in the city have made it a habit to stay awake till late to watch their favourite players in action. Catching up with what is happening in Brazil is top of their agenda, and this is likely to go on till July 12, the final day of the championship.
They complete the household work in time and their favourite TV shows take a back seat when they take their place in the drawing room. But they do not have answers when asked which team they support. The are clueless about the position of their favourite players and the terminology used in the game, or even the cards shown in this beautiful game, but they are quick to say that they watch the game because "some of the players look cute".
It's not only housewives but also professionals who don't mind staying awake till late at night. Getting herself ready for the Brazil versus Mexico match, Maria Fernandes, an IT professional, says: "Come on Neymar, come on,". However, when asked in which position Neymar is playing, maria is silent. "I am watching the game because he looks so cute," she says with her eyes glued to the TV set.
Radhika Shetty is an accountant and one can make out that she has not had good sleep the previous night. "Yes, I did not sleep well and came to office in the morning after watching the Argentina-Bosnia match. It was worth watching Messi. I can never miss Messi in action," says Radhika.
"This is one championship which I have been watching since the days of David Beckham and I still love to watch him play. But unfortunately, he is out of action," said Shanaz Shaikh, a housewife.
Shubhangi stays awake late watching the games. For her, it is Messi. "When Argentina is not playing, I sleep, but when Messi is in action, I watch the entire match," said Shibhangi.
Among football stars, the players who have caught the eyes of the women are Cristanio Rolando, Neymar and Lionel Messis, among many others.