Disgraced leader says 'big parties' are in contact with him; will take a final decision on contesting Lok Sabha polls today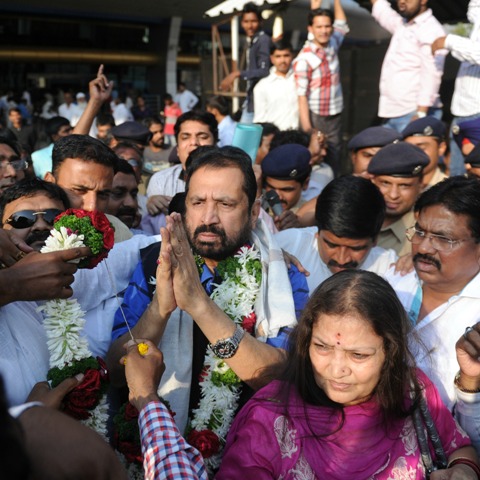 Pune: Miffed at being denied the ticket for Pune Lok Sabha constituency, suspended Congress leader and sitting MP Suresh Kalmadi on Friday alleged that the party has done injustice to him. Revealing that he has been approached by some big parties other than the BJP, he said that he would take a final call on Saturday.

Kalmadi held a meeting with his supporters at his residence off Karve Road in the afternoon. At the same time, deputy chief minister Ajit Pawar held a meeting of Congress and NCP corporators and office-bearers at the Congress Bhavan for better coordination during the polls. None of the major Congress leaders except MLA Ramesh Bagve and deputy mayor Bandu Gaikwad attended Kalmadi's meeting.

Confirming that minister Harshavardhan Patil met him in the afternoon, Kalmadi refused to give any details of the meeting. He said, "You can seek details from Harshavardhan Patil."

Speaking to media persons, Kalmadi said that he did not ask for a ticket for himself but the party should have considered his wife Meera for the candidature from Pune seat as he had brought maximum funds from the Centre for the city's development. "Congress has given ticket to Pavan Bansal and has joined hands with Lalu Prasad, which shows that the party has meted out injustice to me," he said.

Kalmadi claimed that he has been contacted by some big parties and refused to provide details. He said that most of his supporters in today's meeting expressed unhappiness and displeasure over the denial of ticket to his wife. He said that he would discuss the issue with other supporters on Saturday and announce his decision.