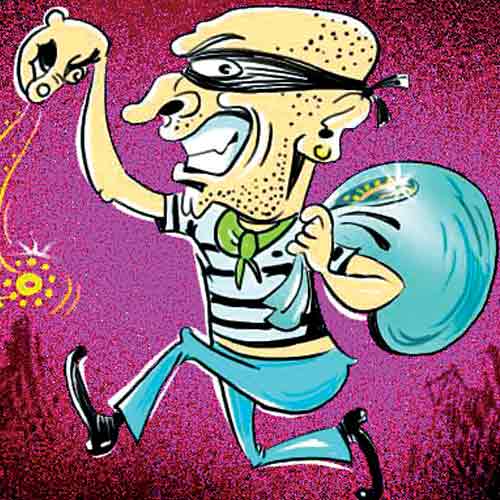 Pune: If you think, chain snatchers only target isolated streets, then you are wrong. Daring police again, the chain snatchers have targeted seven women in a span of 24 hours of which three incidents took place in a shopping mall and basement parking of shopping centre.
In one of these seven cases, Poonam Kund, a resident of Sai Embassy lodged a complaint with Chinchwad police station in which she mentioned that she had gone to watch the movie Holiday at Big Bazaar along with her sister and brother-in-law in Nigdi area. When she was getting into the movie theater during interval, a person identified as Hitesh Bajaj a residence of Sai Chowk has allegedly tried to snatch gold chain worth Rs 50,000. Shah was hiding behind a door and when Poonam tried entered into the theater, he allegedly snatched the chain and tried to run away. However, Poonam held his leg and raised an alarmed after which he was nabbed by other persons. A case has been registered against Shah at Chinchwad police station.
Another case was registered at Chinchwad police station of victim Manisha Shinde (42), a resident of Bijli Nagar. She was returning home with other women when two unidentified persons on a motorbike snatched her gold chain worth Rs 80,000.
In the third incident, victim, Kamalvasini Ramswami (59) a resident of Vadgaon-sheri was on a walk around 5.30pm with her husband in vicinity when two unknown motorbike-borne persons ask ed for an address and snatched a gold chain worth Rs 60,000. A case has been registered in the Yerwada Police station.
However, the fourth incident came to light when victim, Bhumja Arya raised an alarm after his gold chain of worth Rs 30,000 was snatched by unidentified motorbike-borne persons at around 10.30 near Blue Diamond Chowk.
In a similar modus operandi, another victim along with her husband was on a motorbike near Marriott hotel, whentwo unidentified persons on motorbike rode near the victim and fled a chain worth Rs 1.5 lakh. In the sixth incident, Shamala Dharmadhikari (40) was heading towards her vehicle in a parking basement, when unidentified motorbike-borne snatched her gold chain worth Rs 20,000. In the seventh incident, accused Amol Londe (29) allegedly beat and thrashed victim Ankush Kamble (29) when he was about to board a Hadapsar bound bus. However, he was caught by police.