Last year too, Pune recorded its coldest day of the season on December 27 at 7.9°C.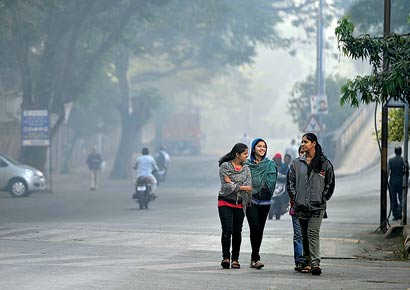 While Mahabaleshwar might be the favorite spot for Puneites wanting to feel the winter chill, this piece of news may just make them do a U-turn.
Figures available with the India Meteorological Department (IMD) have shown that Pune has scored over the hill station when it comes to minimum temperatures. In fact, on Thursday morning, when the city recorded its coldest day of this season with minimum temperature at 7.4°C, the same in Mahabaleshwar was 12.9°C.
The city's minimum temperature was a good 3.2°C below normal.
IMD officials say that the trend has been seen over the last couple of years. In 2009, Pune's temperature hovered nearly 5°C below the hill station.
Also, Pune's coldest day saw minimum temperature fall up to 5.3°C in 2011. The same day it was 10°C in Mahabaleshwar.
January sees the lowest temperatures in the both the places. The lowest ever dip in mercury in the city was recorded at 1.7°C on January 17, 1935. For Mahabaleshwar, it was 5.6°C on January 21, 1968.
IMD's deputy director general (meteorology), Medha Khole attributed this situation to local weather conditions. "Even though Mahabaleshwar is situated at a greater altitude, local conditions in Pune such as less humidity, clear skies and wind conditions are responsible for minimum temperature being lower than the hill station. However, average temperature of Mahabaleshwar is usually lower than Pune," she said.
Meanwhile, IMD officials at Pune have predicted a further drop in minimum temperature to 7°C on Friday morning. They also expect the minimum temperatures to rise slightly after that reaching up to 9°C in the next couple of days.
"Below normal temperatures in Pune are due to two main reasons — prevailing clear sky conditions and easy movement of northerly winds. The cloudy condition is expected to return in 2-3 days leading to slight rise in minimum temperature," Kholde said.
Incidentally, last year too the coldest day of the season was December 27 at 7.9°C. The lowest recorded temperature during the season was in 1968 at 3.3°C. Last decade's coldest day saw the minimum temperature drop to 6.3°C.
IMD officials added that Vidarbha and some parts of central Maharashtra such as Jalgaon were experiencing cold wave conditions (4 to 6 degrees below normal). Ahmednagar recorded the state's lowest temperature at 5.9°C on Thursday.
Winter brings flu, but wards off other ailments
While the drop in temperature has brought a spurt in viral infections and flu-like illnesses, doctors say it is more or less a healthy season. Vector-borne illness and other gastro-intestinal infections that plagued the city for last couple of months are on the decline
"The number of vector-borne infections has come down, especially malaria and dengue. Even swine flu infection cases are lesser. What we are getting are cases of upper respiratory infections in adults but these are not too serious. We can call it a healthy winter," said Dr Hillary Rodrigues, a Camp-based physician
Pediatrician Dr Kumar Mandhare from Koregaon Park said that few cases of viral gastroenteritis were seen in children below two years of age. However, children between 2-6 years reported flu-like illnesses