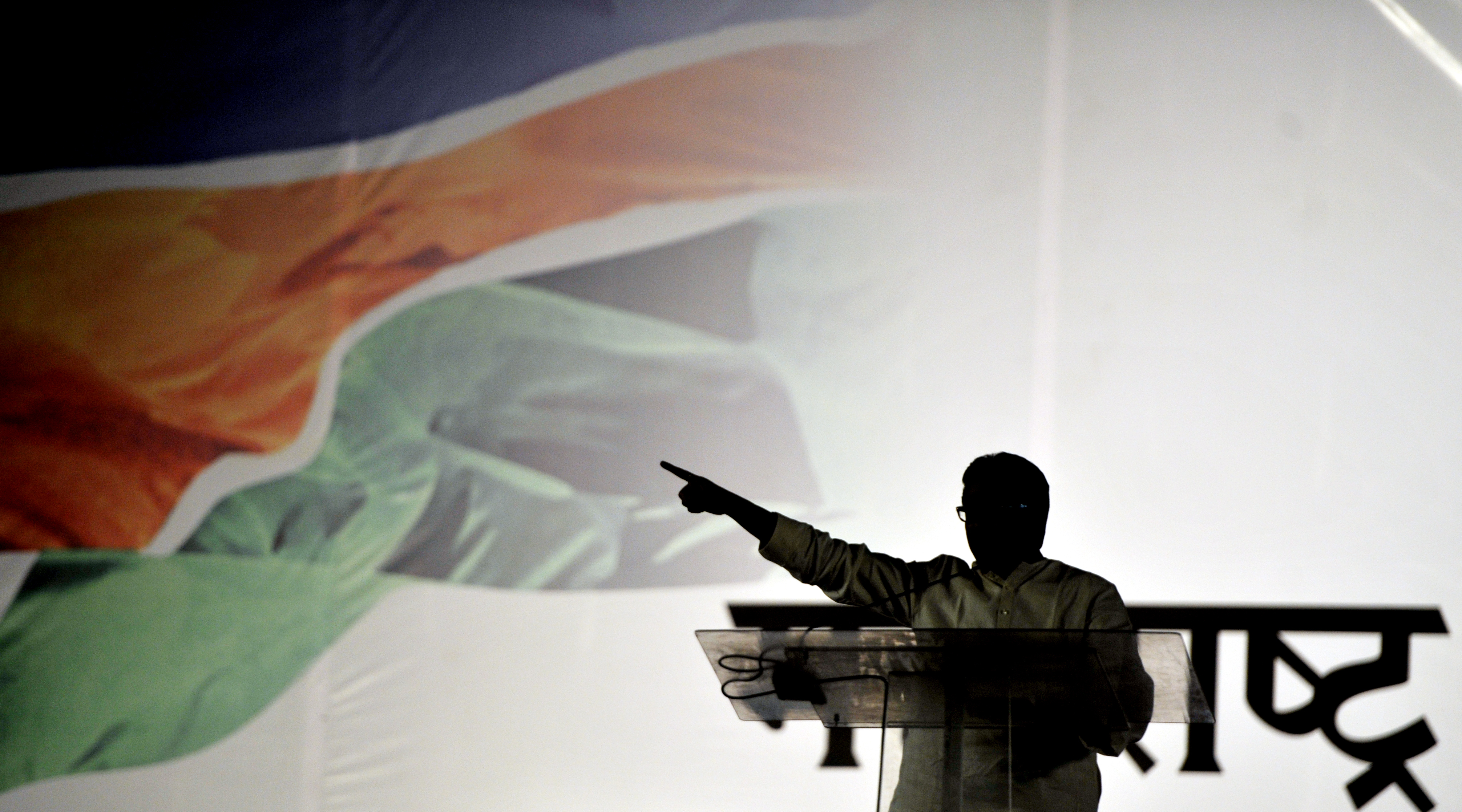 Daring the state government to arrest him or even stop him, Maharashtra Navnirman Sena (MNS) chief Raj Thackeray on Sunday announced a statewide Rasta Roko agitation over the toll issue on Wednesday.
At his much publicised public rally at Sir Parshurambhau College Ground in the city on Sunday, Thackeray reiterated his stance on toll by ordering ransacking of toll plazas which have crossed expiry dates. He said MNS would continue its agitation on toll until the government does not stop such collecting toll even after its expiry date.
The MNS chief made it clear in the beginning that the rally was not for sounding election bugle. He said he was not opposed to charging toll tax, but was against the way in which it was being collected. There has to be an account of each rupee collected on the toll plazas.
He criticised both Congress-NCP government in the state and Shiv Sena for flaying him on the toll issue. "I met the chief minister with concrete evidences of toll being collected illegally, but he expressed helplessness over it. The chief minister is helpless because he is heading an alliance government. And when I move the court, it works exactly in the manner shown in the film Damini and I am given Tareekh Pe Tareekh... When I take to streets, media runs after me and they all try to corner MNS," Raj said.
About the beacons displayed on high profile vehicles, he said, "These lamps are sold in an ordinary shop. What if such lamps and a few fake uniforms fall into terrorists' hands? Is Maharashtra safe? It is because the state government is weak?" He pointed out that Gujarat charges toll as per Centre's rules and minimum distance between two toll plazas is not less than 80 km, but in Maharashtra it is 30 km. Further, there are no service roads and no ladies' toilets on any highways except for Mumbai-Pune Expressway.
Thackeray revealed that the state collected Rs22,266 crores through Motor Vehicle Tax between 2000 and 2011, which is just one of the 13 types of taxes pertaining to roads. Despite such a huge amount, the people have to pay a 14th tax -- the toll tax -- to the government for providing not even basic services. In Karnataka, there are toilet blocks at a distance of 2 to 3 km.
"CM is like Manmohan Singh without a turban" - Raj Thackeray
On the subject of vehicles exempted from toll tax, Thackeray said in three years between 2010 and 2013, at the Khed Shivapur toll plaza outside Pune, while 19,6,854 VIPs passed without paying toll, 19,60,061 vehicles of common citizens did not pay toll. He told that at Anewadi toll plaza outside Pune city six lakh 32 thousand 769 VIP vehicles went and were exempted from paying toll tax. He told that at Anewadi there are 20 Lakh eight thousand 485 common vehicles which did not pay toll tax. Thackeray questioned as to what action state Government was taking on such operators? He pointed out that the VIPs have skipped the toll tax by traveling in to vehicles like Truck and trailers.
Referring to Supriya Sule's statement over putting ablaze Minister's vehicles, Thackeray said, "If she says so, we will not take much time and from tomorrow, I will pinpoint Minister's vehicles and Chun Chun Ke Maroonga, Chun Chun Ke Maroonga."
Criticising media for reports on NCP hand in getting the SP College ground for the rally, Thackeray said, "I have come here to come down heavily on Government and how can NCP help me? Will it say, come and take us to task."
puneinbox@dnaindia.net
Toll Collection info on MNS's Mobile app soon
Thackeray announced that MNS would put all the information about tolls in the state on its mobile app, which would be launched next month. He announced that it would be on social media, including Facebook and other applications.