The district of political bigwigs will discuss politics till the election day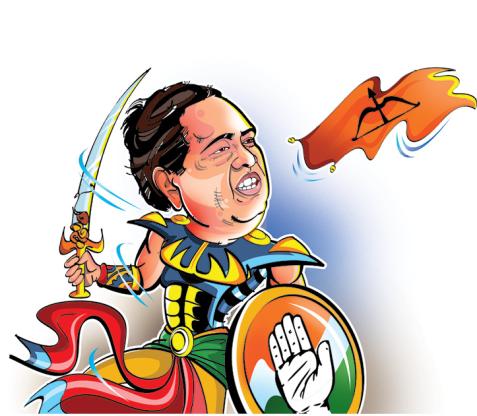 Ahmednagar: Ahmednagar is the district which lies in the middle of golden triangle of Pune-Mumbai and Nashik. The district is politically active because of its sugar belt, cooperatives and village politics, which result in even small schoolchildren discuss politics in an authoritarian voice.Ahmednagar despite being a Congress bastion for decades, both the Lok Sabha seats were won by non-Congress candidates in Dilip Gandhi and Bhausaheb Wakchaure. Wakchaure, the sitting Shiv Sena MP, has now switched over to Congress and has been fielded by the Congress in Shirdi.
Gandhi, a former Union minister of state, is contesting on a BJP ticket after representing Ahmednagar Lok Sabha seat twice. He faces the challenge of Congress candidate Rajiv Rajale, who is a young and dynamic leader with his own network of supporters in addition to being the nephew of minister Balasaheb Thorat.
In Shirdi, the Shiv Sena faced lot of problems in identifying a candidate after Bhausaheb Wakchaure left the party. Initially, the party announced former state minister Babanrao Gholap's candidature but after his indictment by the court, Sadashiv Lokhande in now in the fray.
Ahmednagar district has witnessed the dawn of cooperative movement with the doyen Vitthalrao Vikhe-Patil sowing the seeds of cooperative movement and his son Balasaheb Vikhe-Patil carrying forward the legacy. Late Bhausaheb Thorat, who also is one of the doyens of cooperative movements, hailed from Ahmednagar and interestingly, their successors Balasaheb Thorat and Radhakrishna Vikhe-Patil are ministers in the Maharashtra Cabinet. The district has seen veteran sugar barons like Yashwant Gadakh, Shankarrao Kolhe and Shankarrao Kale while ministers Babanrao Pachpute and Madhukar Pichad are in the state cabinet, making it a district full of heavy weights.
In Ahmednagar seat, even though the fight is straight between sitting MP Dilip Gandhi and Rajiv Rajale, the candidature of former Justice B G Kolse-Patil from Lokshasan Andolan has added some flavour in the contest. Kolse-Patil is the proxy-candidate of veteran Balasaheb Vikhe-Patil for obvious reasons. The Aam Aadmi Party (AAP) has fielded dancer-actress Deepali Sayyad in the fray. Still, political analysts believe that there would be a straight fight between Gandhi and Rajale.
Gandhi would get the advantage of being a sitting MP and the Narendra Modi factor in urban areas as there are sizeable number of voters from Marwadi and Brahmin communities in Ahmednagar. Of the six assembly segments, only one MLA belongs to Congress-NCP and the rest five are from Shiv Sena-BJP which would give Gandhi an edge. The negative factors for Gandhi include the bank irregularities coupled with lack of contact with the electorate in the past 10 years and anti-incumbency.
Rajale had contested as a rebel and garnered more than a lakh votes last time. Now that he is contesting on a party symbol, he would have an advantage and his uncle Balasaheb Thorat would also chip in wholeheartedly.
The rivalry between Thorat and Vikhe-Patil would play a crucial role and the candidature of Kolse-Patil coupled with AAP response would decide the result of this interesting battle in Ahmednagar.
In Shirdi Lok Sabha constituency, Wakchaure who won the 2009 elections on Shiv Sena ticket, has now joined Congress. He is pitted against Sadashiv Lokhande of Shiv Sena. Even though Lokhande is not a strong candidate, he is getting encouraging response and if Narendra Modi addresses a public rally in Ahmednagar, the picture could get better for both the candidates. When Wakchaure was inducted into the party, both the ministers Thorat and Vikhe-Patil along with district unit president Jayant Sasane had assured state unit president Manikrao Thakare that they would win this seat. In a way, Shirdi has become a prestige seat for both Thorat and Vikhe-Patil. AAP has fielded novice Nitin Udmale in Shirdi.
Despite having both agriculture minister in Vikhe-Patil and revenue minister in Thorat, the hailstorm-affected farmers are waiting for 'panchanamas' of their crop damage in a few parts of the district. The overall anti-wave against present government and pro-Modi sentiments would also add to the problems of Congress-NCP candidates in Ahmednagar. Whosoever wins, it would be a tight and interesting battle in both Shirdi and Ahmednagar.