FDA suspects 'carbide-ripened' fruit has flooded Pune market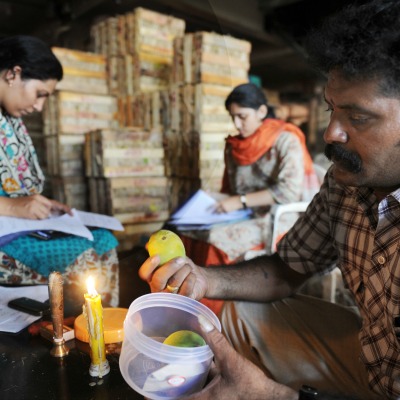 Pune: On Akshaya Tritiya, the day when Hindu rituals mark the beginning of the mango eating feast, officials of the Food and Drug Administration (FDA) carried out a raid in the Market Yard area and seized a whopping 7,640 kg mangoes suspected to be ripened with the help of calcium carbide. So, the next time you reach out for that juicy fruit, think again as FDA officials suspect that thousands of kilos of carbide-ripened mangoes, which could be hazardous to health, have been supplied to Pune market.
Acting on a tip-off, FDA officials on Friday raided some five stalls in Market Yard where hordes of citizens visit daily to buy fruits and vegetables in bulk at wholesale prices.
Speaking to dna, Shashikant Kekare, joint commissioner (Food) FDA said, "Around noon we started the raids in various shops and at five places we found the calcium carbide chemical in which the Alphonso mangoes were kept for ripening. We seized 7,640 kg mangoes worth around Rs 8 lakh from these shops besides calcium carbide weighing 13.5 kg."
He said that the mango samples have been sent for laboratory testing and cases will be lodged against the shop owners after the lab report is received. Dilip Sangat, assistant commissioner (Food), FDA said, "The mangoes were kept in bags containing calcium carbide components. This process of artificial ripening is banned under the provisions of the Prevention of Food Adulteration Act. The shop owners were selling such mangoes in the range of Rs 150 to Rs 200 per kg. The fruit had been supplied to Pune market from Ratnagiri and Karnataka."
How to check the fruit
* Naturally-ripened mangoes are not uniformly yellow in colour and may have green patches
* Carbide-ripened mangoes have a powdery surface and are uniformly yellow in colour
* Unlike naturally-ripened mangoes, the adulterated fruit is warm when touched
Dangers of calcium carbide
* Calcium carbide, say health experts, can cause neural problems by affecting oxygen supply to the brain.
* Once dissolved in water, it produces acetylene gas which acts as an asyphixant and may affect the neurological system by inducing prolonged hypoxia.
* This leads to headaches, mood disorders, dizziness and mental confusion.