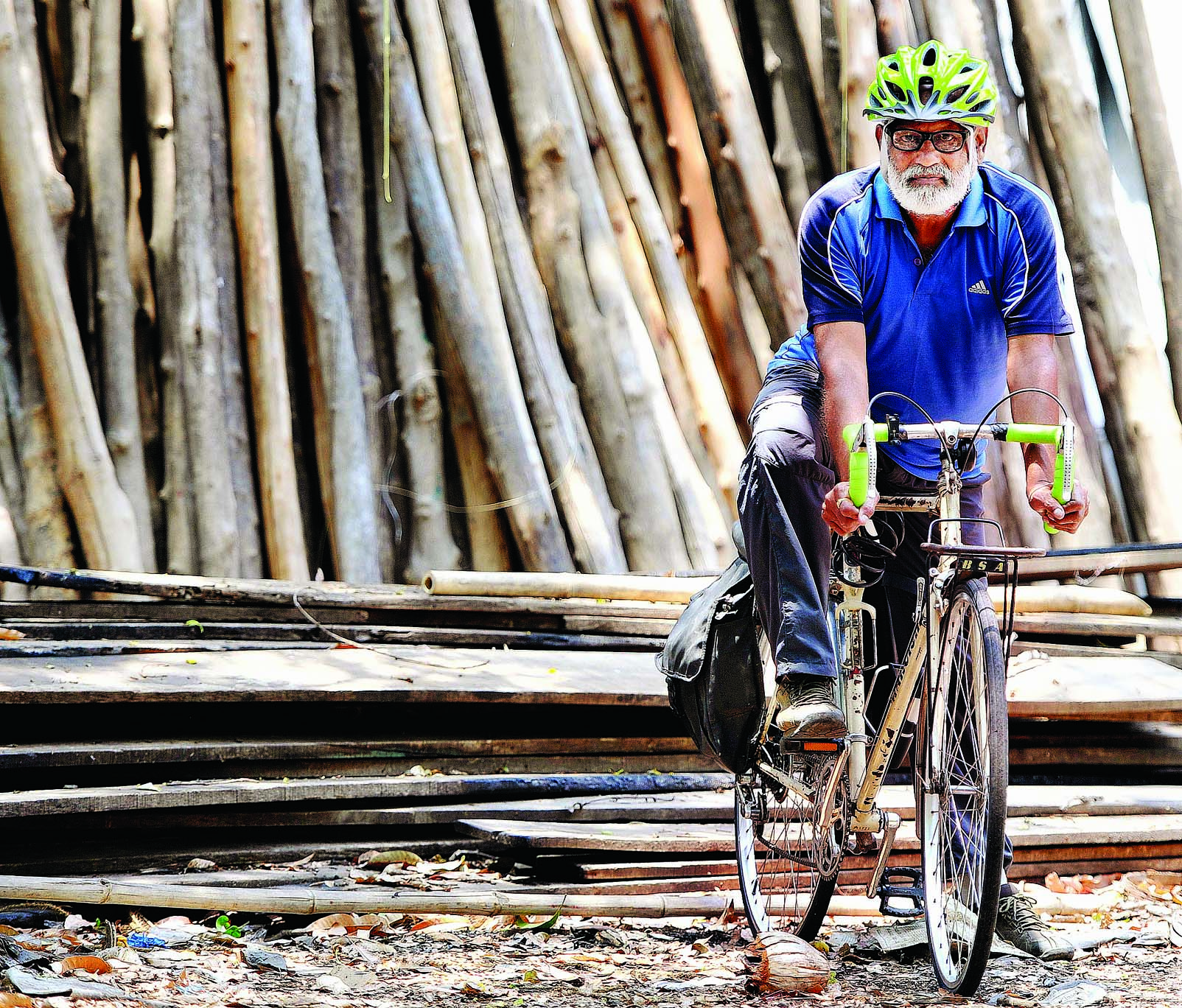 After having travelled the world in the last three decades, 64-year Prashant Narayanrao Golwalkar would undertake yet another European cycle expedition from June 15, and will cycle more than 4,500 kms in a span of 86-days. Golwalkar was in Pune to repair his Japanese Marushi bicycle, for his next trip of more than 4,500 kms. He will be leaving for London on Sunday.
A former Bank of Maharashtra employee, Golwalkar hails from Hoshangabad city situated on the banks of River Narmada, in the state of Madhya Pradesh. His previous track record will inspire every young person. Golwalkar has visited every continent in the globe as a World Cycle Tourist, and even at this age, this bachelor cyclist, is willing to visit more countries across the world.
Born in Indore on January 1, 1950, Golwalkar was brought up in Gwalior. His banking career extended a span of two decades. Golwalkar has also worked with the Indian Railways for two years, and as a teacher for five years. It was during his first expedition from Bhopal to Delhi as a student that he realised his love for cycling. Golwalkar did not have a bicycle of his own then, and had started his journey by borrowing his friend's cycle.
The then Prime Minister, Late Rajiv Gandhi had announced the year 1985, as the 'International Youth Year.' That year, after attaining a permission from the Ministry of External Affairs (MEA), Golwalkar pedalled to the nations of Pakistan, Iraq, Iran, Jordan, Syria, Lebanon, Egypt, Israel, Turkey, Greece, Bulgaria, Romania, Hungary, Chekoslovakia, Poland, Sylvania, Italy, Monaco, Spain, Portugal, UK, Holland, Finland, Denmark, Luxemberg, Norway in a span of two years. Between the years 1988 and 1989, he undertook a 12-nation cycle expedition to East Asian nations of Malaysia and Singapore, and then to Australia, the United States, Canada and some nations in Africa and Europe, leaving no continent left to be explored.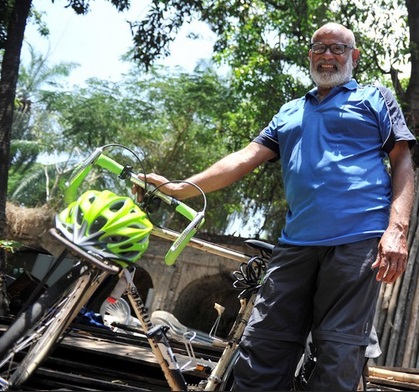 Asked about his motivation behind the cycling expeditions, Golkwalkar says, "Pair garam to pet naram, pet naram to dimag thanda aur doctor ko maro danda (If your legs are active, the stomach is under control, and when the stomach is under control, the mind is calm, and all of these will keep the doctor away)." In his spare time, Golwalkar interacts with the youth asking them to keep away from addictions, and take up fitness instead. He has delivered more than 1, 200 lectures in seven states. National television channel Doordarshan has made a 20-minute film on his life. Golwalkar has also penned down his autobiography, `Duniya Ki Sadake Aur Meri Cycle' (My bicycle and the world's roads).
Experiences of a lifetime:
Golwalkar had several experienced during his expeditions. He met the original inhabitants of Australia, the aboriginal people, and learned about their distinct ways of living. In Zaire, he witnessed soil smuggling and had several other grave encounters. While in Zaire, four girls tried to inject Golwalkar to grab his food and bag. He speaks of another incident where a French couple had taken care of him for twelve days in their house, when he had dislocated his knee after falling. Despite the language barrier, the French couple and Golwalkar became great friends. Giving away the luxuries of life, he had travelled without any modern-day facilities, and lived in tents, by burning wood outside it.