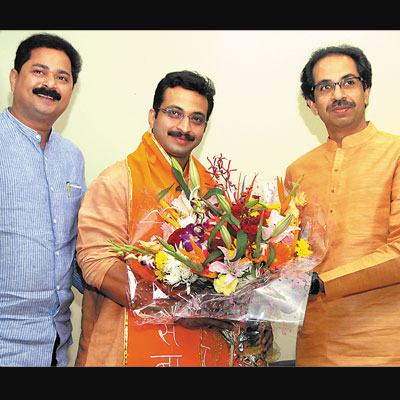 Attacking estranged cousin and MNS chief Raj Thackeray, Shiv Sena president Uddhav Thackeray said there was no question of taking along parties which were clandestinely helping the Congress and NCP.
Uddhav claimed that despite desertions by party leaders, Sena would be unaffected, adding that Union agriculture minister Sharad Pawar-led NCP was in bad shape and, hence, forced to import candidates from other parties.
Uddhav also denied the likelihood of Sena putting up a rebel in Nagpur against former BJP national president Nitin Gadkari, who has found himself in the party's cross hairs after his overtures to Raj, and, in a veiled attack, said Sena never indulged in "backstabbing".
Speaking to the media on Wednesday, Uddhav announced that actor Dr Amol Kolhe, who shot to fame for his portrayal of warrior king Chhatrapati Shivaji Maharaj in the serial Raja Shivchatrapati, was joining the party. Incidentally, Kolhe was also being courted by the MNS to contest from the Shirur Lok Sabha constituency in Pune. However, Kolhe, a medical practitioner, said he had decided against joining the MNS as he did not feel the party's leadership was up to the mark.
Sena sources said that despite his upfront reaction on BJP's vibes to Raj, Uddhav needed to increase his aggression, especially because the party seemed to have been surrounded by foes and friends alike.
"He will need to make a surprising move to come out of this encirclement," said a Sena source, adding that a shift to the Hindutva agenda could help corner the BJP and consolidate its core vote bank.
The source pointed to how despite the presence of an anti-incumbency wave in the state, the Congress had acquired an edge in the selection of candidates for individual constituencies and had made "strategic choices" like Vishwajeet Kadam (Pune) to overcome the voters' anger at the micro-level.
"We openly fight against Congress and NCP and don't help them clandestinely... Will you take someone along if they help the Congress-NCP indirectly and have the same treachery in mind?" Uddhav questioned, without naming either Raj or his party but ruling out their inclusion in the five-party Mahayuti (grand alliance). He rued that while the agriculture minister (Pawar) hailed from Maharashtra, it perhaps accounted for the largest number of farmer suicides.
Uddhav said the issue of desertions from the Sena, including those of sitting Mps, was being blown out of proportion and added that the NCP was being forced to import candidates from other parties. He also alleged that NCP was exploring various political alternatives to be encashed after the elections.
"There was a time when Sharad Pawar and NCP commanded respect in the country. That party cannot find a candidate today," said Uddhav, when asked about Sena leaders quitting the party to join NCP, the latest being Yuva Sena spokesperson Rahul Narvekar, who is NCP nominee from Maval.
Uddhav pointed to how the Pimpri-Chinchwad belt was once seen as a NCP stronghold but added that a number of leaders — Azambhai Pansare and Laxman Jagtap (who is contesting with support from the PWP) — had quit the party. He said other NCP nominees, Sanjeev Naik (Thane) and Chhagan Bhujbal (Nashik), too, had their roots in Sena.
On questions about the likelihood of a Sena leader contesting against Gadkari, Uddhav said "he never stabbed anyone in the back" and added that he had spoken out on issues (the Raj-Gadkari meeting) he did not agree with.