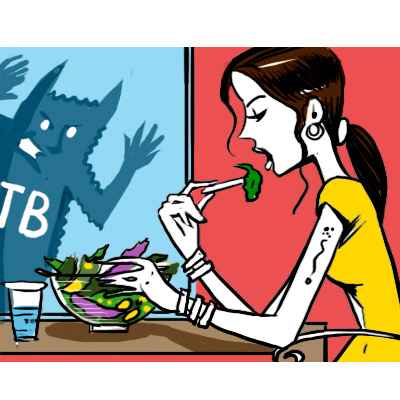 The quest for an hourglass figure is proving to be costly for young women from upper middle class families. Many of them have been contracting tuberculosis (TB) with chest physicians saying the number is only going northward every month. Doctors said to attain size zero, these women go for crash diets which exposes them to the disease. The bacilli attacks when the person's immunity is low.
"Dieting was not common a couple of years ago, but now, every woman aspires to have a model's body. To have a slim and trim figure, they skip meals and starve themselves. Dieting for long periods weakens a person's immunity, making him/her prone to a disease like TB," said Dr Jalil Parker, chest physician at Bandra's Lilavati Hospital. He said most of these women belong to well-to-do families and they come with complaints of constant cough, low-grade fever and weight loss along with low appetite. "They take these symptoms lightly and see a family physician first. When they are referred to us, they don't respond to treatment. They are in denial mode after X-Rays and other investigations confirm that they have contracted TB," Dr Parker told dna.
TB is a contagious disease and spreads like common cold when an infected person coughs, sneezes, talks or spits. It can affect any part of the body, but only those with TB in their lungs are infectious. One-third of humans alive today carry the TB bacteria. Nearly three lakh people in India die of TB every year. India has 22 lakh TB cases, the highest in the world, of which up to three per cent are estimated to be multi-drug resistant. The number of "missed" TB cases in India is about 10 lakh.
Dr Yatin Dholakia, secretary of the Maharashtra State Anti-TB Association, said crash-dieting is extremely dangerous and that TB bacilli infection progresses into a full-fledged disease only when the person's immunity is low. "Women have their own dieting concepts and don't consult doctors. The nutritional level drops when they opt for such diet courses, leading to low immunity levels," he said. Dr Dholakia said Mumbai has a very high TB prevalence rate. There are 220 to 250 TB cases for every 1 lakh people in Mumbai. Overcrowding is a major problem and that has increased the chances of infection," he said.
Dr Om Srivastava, infectious disease consultant at Jaslok Hospital, agrees. "There is definitely a clear association between nutritional status of the person and TB. The total amount of protein and albumin intake determines our immune system. Having only junk food and dieting skews up nutritional levels and chances of getting multiple infection along with TB are therefore greater," he said.
In the absence of proper diet and protein deficiency, people can contract serious diseases like TB, said Dr Shashank Joshi, president, Association of Physicians of India. They can also face problems like nutrition deficiency and sleeping disorders. "Going on a diet without proper consultation is very dangerous. We've seen cases of girls who are dieting suffering from anorexia nervosa (eating disorder characterised by immoderate food restriction) and bulimia nervosa (disorder characterised by binge eating)," Dr Joshi said.
Dr Jagmeet Madan, nutritionist, principal and professor, SVT college of Home Sciences, SNDT Women University, Mumbai, said people should follow a proper diet after consulting a qualified nutritionist. "They will suggest a diet which is rich in protein and vitamin. A self-diet programme can put your life at risk," Dr Madan said.
According to WHO's Global TB Report, 2013, 90 lakh people get TB every year worldwide. Of these, 30 lakh have no access to treatment. In India, about two people die of TB every three minutes.