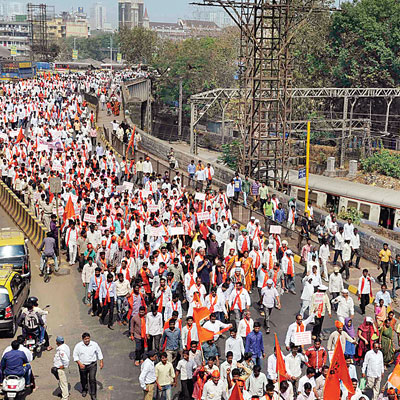 The Bombay High Court on Tuesday asked the state whether it will take a decision on a report rejecting the inclusion of Marathas in the Other Backward Classes (OBC) category. The report was filed by the Backward Classes Commission headed by retired Justice RM Bapat in 2008. A division bench of Justices Abhay Oka and AS Chandurkar was hearing a Public Interest Litigation (PIL) filed in 2009 by Republican Party of India member Rajaram Kharat.
With an eye on assembly elections, the Congress-NCP government had on June 24 approved 16 per cent reservations for Marathas and five per cent for Muslims in government jobs and education institutions.
Sanghraj Rupwate, advocate for Kharat, informed the HC that the Bapat report was prepared in July 25, 2008, but the government was yet to take a decision on the report. Moreover, it had not tabled the same before the cabinet.
Kharat's PIL claims that Marathas cannot be called backward, nor can they be included in the OBC category. "Marathas are a dominant, affluent, forward caste and not entitled to be included in the list of OBCs," the petition said. However, it alleged, that under pressure from Maratha organisations, the state was "on the verge of extending reservations to Marathas, by including them in OBC". This, it said, had "created feeling of insecurity amongst the neo-Buddhists, scheduled castes, scheduled tribes and the downtrodden".
One of the requests of the PIL was to table the report in both Houses of the legislature, which were in session at that time in 2009. However, it has not been done till date. The PIL also says that under the Maharashtra State Backward Classes Commission Act, 2005, it is mandatory for the government to table the Bapat Commission report before the legislatures. The next date for the PIL's hearing is July 22.
The government's approval of reservations on June 24 was also challenged through a PIL by former journalist Ketan Tirodkar. In response, advocate-general Darius Khambatta had informed the high court on Monday that a resolution in this regard had not been been passed by the state government, hence Tirodkar's PIL was premature. This matter will be heard on July 9.