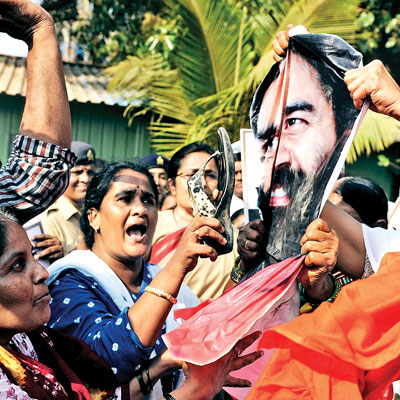 In the backdrop of Baba Ramdev's 'honeymoon' remark sparking an outrage among Dalits and Congress workers across the country, prompting the Uttar Pradesh police to register an FIR against him, the community leaders from Maharashtra are being accused of playing safe over the issue.
Ramdev, who has been supporting the BJP, stirred up a hornets' nest on April 25 when he allegedly said that Congress vice-president Rahul Gandhi went to the houses of Dalits "for honeymoon and picnic".
While Gandhi's supporters demanded stern action against Ramdev, ex-UP chief minister and the BSP supremo Mayawati threatened to launch a country-wide protest against the yoga guru and the BJP after the polls, if the saffron party did not take action against him.
So far, none of the Dalit politicos from Maharashtra had reacted on the issue till Sunday. This includes Sushil Kumar Shinde (Congress), Ramdas Athawale (RPI-A), Prakash Ambedkar (Bhartiya Bahujan Mahasangh), Jogendra Kawade (People's Republican Party) and Nitin Raut (Congressman and state cabinet Minister). Dalits account for 10.5% of Maharashtra's population.
Though Athawale held a couple of protests in Mumbai and Thane on Sunday, demanding action against Ramdev, the failed to impress the community. On being asked if he would quit NDA over the issue, Athawale said, "Ramdev is not part of the NDA so there is no question of quitting."
On Monday, Nitin Raut told the media that he had written to the President, demanding Ramdev's arrest. However, this is being seen more of a "face-saving exercise" than the concern for the community.
Kawade and Ambedkar were yet to react till the time of going to press.
Political analyst Surendra Jondhale, says, "All these leaders in Maharashtra are fake. They all work for their own political gains and hence are insensitive to the issues related to Dalits."
Terming Athawale's protests as 'symbolic' and 'cautious', Jondhale added, "He is now allied with the saffron alliance. This complexity would have delayed his response."
Tushar Jagtap, a dermatologist and an Ambedkerite, said, "The so-called Dalit leaders in Maharashtra don't actually represent the Dalits. Few of them reacted lately, but only after weighing all pro-cons of their personal benefits." Dr Jagtap added that the young faces will replace such non-leaders soon.
Box: 'Delayed and cautious'
"We reacted after two days but we did it before other Dalit leaders of Maharashtra did. Moreover, the government has taken necessary action and a case under Dalit atrocities Act has been registered."
Mayur Borkar, RPI (A) spokesperson
"My response was delayed because I came to Mumbai only on Monday."
Nitin Raut, state cabinet minister
Shinde and Kawade couldn't be reached for the comments