Home chef Daniela Patel is changing the way Westcoast residents enjoy Italian food. She re-introduces dna reader Sarah Jain to some classic, no frills food from the cuisine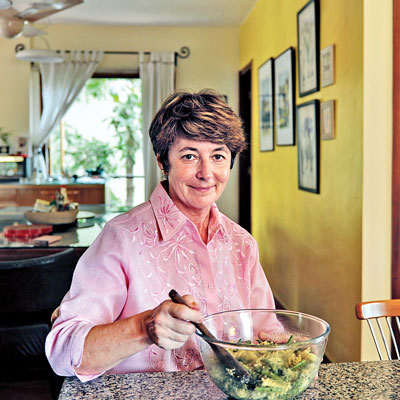 Daniela Patel's kitchen reflects her simplicity and creativity. It is here that she is creating a revolution of sorts—to introduce Westcoast residents to authentic Italian food, quite unlike the dishes that are often passed off for Italian fare in many plush diners.
As we step into her kitchen, which is situated on the second floor of her Lalubhai Park home at Andheri (West) overlooking the railway tracks, the sound of a passing train beeps out the friendly hellos exchanged. "It can get pretty annoying when you are on the phone trying to closely hear what the person on the other end is saying," she says. Years ago, after marriage Mumbai became her home. Italian food was still an exotic concept in Mumbai then.
As we milled around the kitchen, Patel set to work on the dish for the day: French beans, potatoes and pasta in pesto sauce. After peeling, dicing and placing the potatoes in a bowl of boiling water, Patel starts chopping the French beans. "You have to clean and boil the beans in salted water for a few minutes," she explains, "I chose to make this dish, as it is not time consuming and it is quite unlike the tried-and-tested pasta in red sauce (Arrabiata) and pasta in cream sauce."
It has been three years since Patel has been making cook-on-order Italian food. "I started at the insistence of my husband and friends. I had created an Italian meal for a friend, which caught the attention of others who encouraged me to become a home chef." It had begun with a regular menu but now she keeps updating and improvising the menu as and when possible. "Do not mistake this for a catering business," she cautions us, "I do not provide staff."
Inspired by the food she had eaten back home, Patel has been cooking the authentic Italian fare of risotto, lasagne, pasta and tiramisu for her clients. "Most of my preparations can be easily reheated and served," she quips, "My tiramisu is very popular among my clients. Indians love this coffee-flavoured Italian dessert."
Till date, the biggest challenge for Patel has been sourcing the ingredients, which are not that easily available. "There are usually quite a few ingredients that I fail to source in the city. Whenever possible, I try and arrange to get these ingredients from Italy itself." What happens if she fails to source some ingredients? "Then I simply do not make that dish," she says, "I do not like to cut corners and make a dish only if I have all the ingredients."
While Patel has eaten at neighbourhood Italian restaurants, her grouse is that "most of the Italian food palmed off at city restaurants is hopeless. They serve pasta with canned tomato sauce and call it Penne Arrabiata!" Patel confesses that she always loved to cook and with passing years her passion for food turned into a career option, as she got more interested and involved in cooking. "Earlier, I used to be glad just cooking at home, but off late I am getting used to donning the hat of the home chef."
Though in possession of an enormous storehouse of recipes, she does not plan on getting them published any time soon. "There are already too many books available in the market. I do not plan on adding another cookbook to the existing list."