On the occasion of World Environment Day 2014, celebrated yesterday, check out RUR's green events over the weekend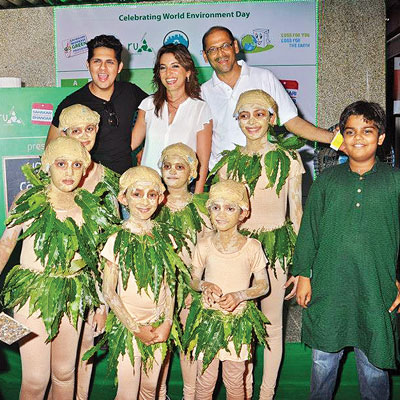 That scene from Amole Gupte's recent film Hawaa Hawaai, where five kids rummage through landfills and create a magical pair of skates, has a real life twist to it—a local NGO is making recycling initiatives fun and informative.
RUR, in association with Tetra Pak and your local Sahakari Bhandar, is conducting a host of events to celebrate World Environment Day 2014. "The idea is to initiate exciting work by students in the summer vacation to spread awareness on Tetra Pak recycling and turning them into sustainable projects," shares Monisha Narke, co-founder of the eco-conscious initiative—Are you Reusing, Reducing, Recycling (RUR).
Little Master Recycler is a concept to create green champs in every community, where RUR has set up recycling centres. These children are educated to become change makers and help spread the message of recycling waste.
"Tetra Pak recycling is an activity we have been practicing for the last two years. Each time we come across Tetra Paks, we make sure we send the empty cartons back to a Sahakari Bhandar outlet for recycling.
We did not understand such concepts while we were growing up; introducing it to kids now is an interesting initiative. So, when I asked my 11-year-old daughter Divya, why she participated in the Little Mater Recycler program, she said that initially it was just to win but gradually, she understood its significance," says Andheri-resident Hemlata Damani.
Aditi Bhosle, mother of eight-year-old Mishka, shares, "Mishka was in charge of collecting used Tetra Paks around the society. People were very lazy initially and they forgot to keep the used Tetra Paks aside, but they saw the disappointment on her face when they forgot and slowly it is becoming a habit for them. Mishka is at the end of her tether now but her efforts are paying off."
"We have received around 100 applications from across the city, 20 of which have been selected. These interesting ideas and project reports will be evaluated. Also, we have received applications from around 10 societies who have registered for the event. We have collected over 2,000 Tetra Pak cartons; three societies will be awarded exclusive benches made of recycled material," Narke shares.
Way to Go Green!