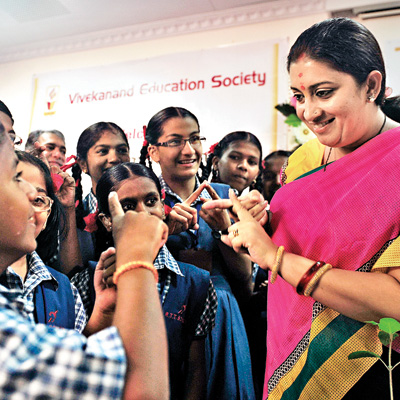 Union minister Smriti Irani has said the government wants to get school dropouts back to studying and even complete graduation up to the doctorate level.
Addressing students at the Vivekanand Education Society in Chembur on Saturday, the minister of human resources and development said: "By December we will roll out a plan where if you have to drop out in the eighth standard because you are compelled to work, we will facilitate your coming back. We are making a framework for such students to get back and train for a vocation, even up to the PhD level."
Irani said the government had already launched the "Ishan Vikas" programme for students of northeastern states, in which those with the calibre to become researchers or scientists would be picked to visit top-notch educational institutions in the country.
"In Ishan Vikas the best 2,200 students from class 9 to 11 would be selected and groomed. They will visit IITs, IIMs and other technical institutions and get an orientation there," she said.
The minister also informed that 1,400 most underprivileged students attending CBSE schools, but whose annual family income is less than Rs50,000, have been identified and they will be mentored to enter the best institutions after they complete school.
Responding to a question by a student from a Kashmiri migrant family on the limited quota for the community (just one seat per course or branch), the minister said the government was committed to support Kashmiri migrants.
"Prime minister Narendra Modi has announced a Rs500 crore package for Kashmiri pandits, to support migrant families returning to Kashmir. I can assure you that there would be no ambiguity in granting admission," Irani said. She said her ministry was open to suggestions for other special schemes.
When an engineering student described reservations in higher education and jobs as discriminatory, the minister explained the need to support the underprivileged. "When it comes to education women, children from scheduled castes and other backward castes are not economically empowered to study further and so many of them drop out. I too could not continue with higher education because I didn't have money," Irani said.
On the matter of gender discrimination, the minister lauded men who supported women in the family and in the workforce, but admitted that society at large has yet to see a significant change.
"Girls outshine boys in school examinations, but when it comes to technical and management studies, very few are women as the families don't want to spend more on girls. There are only 22 per cent girls in IITs and very few who are scientists," she said, and urged students to respect their sisters and become agents of change.
The minister also said the government was drafting a new education policy for which all stakeholders were being consulted. "The existing policy was prepared in 1986. The people's aspirations have changed since then. The new education policy will help to make students productive... to emerge as citizens of this country."