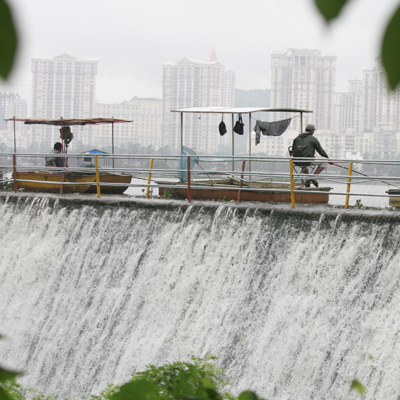 The rain gods have smiled on BMC's catchment areas and lake levels have gone up.
Between Monday 6am and Tuesday 6am, it rained 176.2mm. And the seven reservoirs of BMC stocked enough water to meet the demand of 34 days. But the civic body will continue with water cuts.
Before it started pouring on Monday, the levels at Modak Sagar, Tansa, Vihar, Tulsi, Upper Vaitarna, Middle Vaitarna, and Bhatsa were at a four-year low.
As on July 28, the lakes had 3,73,244 million litres of water that could be used. Following the rainfall, the stock increased by 1,26,425 million litres.
In normal case, the BMC supplies 3,750 million litres of water daily (MLD) to the city, while the actual demand is 4,200 MLD. But in view of poor rainfall earlier this season, the BMC imposed a 20% cut for domestic consumers from July 2. With the situation worsening, the BMC extended 50-100% water cuts to recreational facilities and commercial establishments from July 16.
"Until two days ago, we were worried with the poor lake levels," a civic official said. "Now that the levels have gone up, we are happy." He said the BMC had little choice about water cuts because of the wide gap between this year and last year's useful content available. But there is no need for additional water cuts now, he said.
On July 29, 2013, the useful content available was 11,48,143 million litres. "Our worries are far from over. We are nowhere close to last year's stock. Also, the present levels are nearly one third of the total annual stock we can accumulate across dams. We still have two more months in hand... let's hope the levels go up further," Ramesh Bambale, hydraulic engineer, said.
4,99,669 million litres
water stock available on July 29, 2014
11,48,143 million litres
water stock available on July 29, 1013
14,50,000 million litres
storage capacity of seven dams